Kinlin ADHN 700c 622 Rim - Silver - 40 Hole
Manufacturer :
SJS Cycles part number :
Manufacturer part number :
Details
- Single eyeletted
- Double Wall
- Drilled for presta
- 622 x 18
- Weight: 530g
- ERD 606
Related products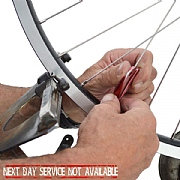 Wheel Build with 14g DT Champion Stainless SILVER spokes - per wheel
£47.28 Inc VAT
Quick view
Be the first to write a review
Feel free to leave a review of this product, good or bad it helps other customers with their buying decision.
could this replace a rear 26 inch by 1 1/4 inch wheel that has a sturmy archer 3 gear hub
20 Sep 2020
NO- this is a 622 rim which is more commonly known as 700c which would be too big for your intended use.
What is the width of the well in these rims? Repeat.
28 May 2020
That tape is 16mm wide that is too wide if the rim width is 18mm. It will ride up onto the bead shelf on both sides.
I did not ask for the rim int. width. I asked if you tell me the width of the internal well of the rim. The well being the recess at the very bottom. I'd be very grateful if you could go and measure one, using calipers. Thanks.
Hi, using a caliper - the well is 13 mm, you could fit a 16 mm tape, a 17 or 18 mm tape would also fit comfortably. The overall width is 24 mm and the inside wall width is 20 mm. Where Kinlin get 18 from I don't know. Thanks
What is the width of the well in these rims?
28 May 2020
I want to know what width rim tape to order.

I don't want the rim tape to ride up onto the tyre bead shelf
The internal is 18mm.
We would suggest using - SJS Cycles part number : 23277

Thanks - 28/05/20
Clincher or tubular?
20 Apr 2020
Is this rim for use with "clincher" tyres? Could it be used with a tubular?
Hi, it is for clincher. Thanks 20/04/2020
What's the weight of these rims as a 700c?
14 Aug 2018
Hi

The weight of this rim is 500g.

Thanks
What Is The Minimum Tyre Width That These Will Take, Please
06 Feb 2017
I'm rebuilding an old track wheel with a 40 hole hub. Not a lot of clearance under the fork crown and the seat stay bridge.
Hi,

These rims have an internal width of 19mm so the narrowest tyre we'd recommend fitting to them would be a 28mm.

Thanks.
Kinlin Adhn Availability
18 Nov 2016
Hello, can you get the 40-hole ADHN in polished silver finish please? I know Kinlin do a polished version, but you're the only shop I've found that has these rims in 40 hole (for vintage rear wheels), but you only show them in teh anodized silver.
Thanks,
S
Hi,

This is the only version we are able to get hold of from our supplier I'm afraid.

Thanks.
What Width Is The Kinlin 40H 700C Rim?
17 Sep 2016
I wish to match up with a similar 32h rim for my 50's S-A Hubbed wheel.
Hi,

These have an internal rim width of 19mm and an external width of 23mm.

Thanks.
Is There A Matching 32H Rim To Go With This, For Us Vintage Lightweight Guys?
16 Sep 2016
?
Hi,

We can only order these rims in 40H I'm afraid as this is all that is left available with our supplier.

Thanks.