Moulton M17 17" 369 Alloy Rim - Silver
Holes
Manufacturer :
SJS Cycles part number :
Manufacturer part number :
Details
Double Wall, Single Eyelet

Polished Silver with CNC rim brake surface.

ERD - 353mm
Related products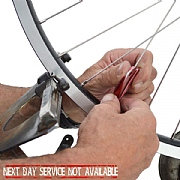 Wheel Build with 14g DT Champion Stainless SILVER spokes - per wheel
£47.28 Inc VAT
Quick view
Product Reviews (1)
Overall Product Rating 5 / 5
The Fastest Wheel size available
18 May 2019
I recommend this product
Cons
only 1 tire available in 17 inch
Pros
Fastest Wheel size,Lowest Rolling resistance
Dr Moulton proved way back in the 1960´s that the Wheel with the Lowest Rolling Resistance of All Bicycle wheel sizes is actually a 17 inch wheel with a High pressure tire.
If you have a racing bike e.g. Moulton or any other small wheeled racy bike with lightweight quality components e.g. Campagnolo,Shimano Dura Ace,Ultegra,SRAM Red etc if you combine that package with a well built lightweight 17 inch wheel with high end components and aero spokes and throw in a high pressure tire e.g. the Schwalbe Kojak and top quality Schwalbe Racing inner tube you are onto a Winner!
A 17 inch wheel makes for a Furiously Fast Racing Bike!
Unfortunately all the tire manufacturers are yet to catch onto this as currently there is Only one racy tire available in
17 inch, The Schwalbe Kojak.
17" front wheel build
21 Aug 2020
I want to build a front 17" wheel with 2 cross spoke pattern. My current rim inner diameter is 352mm giving my a spoke length of 170mm with my hub of 42mm hole diameter.
Can you give me the inner diameter of your rim, or tell me the spoke length I need for your rim and my pattern? Also I need the spokes! I don't suppose you can get them, or at least tell me where I can? Thanks,
Dan
As listed, ERD - 353mm.
You need to measure the flange distances, the spoke hole BCD and the hub OLN.

We have tonnes of spokes, under Jtek for black/silver plain gauge in shorter lengths.
https://www.prowheelbuilder.com/spokelengthcalculator

Thanks - 25/08/20
Will the 24H drilling be available again soon?
18 Jul 2020
I bought these from you two years ago and may soon have to replace one due to wear (it's done about 12,000km).
We do not currently stock 24h options, will see if they are still available.

Thanks - 20/07/20
What is the Maximum spoke tension for the Moulton M17 28H Rim
04 Oct 2019
Moulton advise;

"As you'll know, whereas most wheel builders will have a tension meter to hand, most end up working by feel instead."

Thanks - 08/10/19
Which rim tape do you recommend to buy with this rim?
02 Aug 2018
We would recommend - SJS Cycles part number : 761M (Medium 16mm)
Thanks
Can you please provide the actual weight in grams for the 24h and 28h Moulton rims?
13 Jul 2017
Hi,

Accounting for a weight tolerance of +/- 5grams both rims weigh the same at 300grams.

Thanks.
What Brand 32H ?
17 Sep 2015
i did order 24h . but brand is vellocity

is 32h is same brand ?

i want to same brand

i do not alex
Hi,

The 24H version is Branded Velocity, but the 28H and the 32H versions are branded as Moulton.

Thanks.
What Is The Erd Of This Rim?
02 Apr 2015
ERD = Effective Rim Diameter, this dimension is required when calculating spoke length for wheel building.
I think the ERD is 360mm based on my measurements
Hi,

We have just measured the rim ERD of this rim at 353mm.

Thanks.
I Need Two 17" Alloy Wheels For A Moulton Restoration.
09 Jun 2014
The front wheel needs to be a lightweight wheel capable of using a schwalbe stelvio tyre. The rear needs to be a rim compatible with a Capreo hub (20 holes) with a 9/26 cassette. This will be used with a triple chainring (30/39/53) and should give gears of 20 to 100". please could you price the wheels/rims/spoke combinations involved?

Thanks
Richard
Hi,

Unfortunately these are the only 17" rims we sell and they're not available in a 20h pattern so will not be compatible with your hub. Without knowing what dropout spacing you need I can't recommend a front wheel either as some Moulton's use a smaller dropout spacing.

Thanks.
Which Of These Rims Have Offset Spoke Wholes?
21 Apr 2014
I need one for a new front wheel so don't want the offset holes.
Hi,

All 3 of the spoke drillings use a slight offset design. It is only a small amount of offset but they all have it.

Thanks.