Ryde Sputnik 700c 622 Touring Rim - Black
Holes
Manufacturer :
SJS Cycles part number :
Manufacturer part number :
Details
- Very strong and stable, heavy duty
- 6063 T6 alloy
- CNC machined sidewalls
- Double eyeleted
- Drilled for Presta
- 19 mm int
- 745g
- ERD - 602
Related products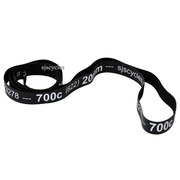 SJSC Reinforced Nylon Rim Tape - 700c 622 x 20mm - Black
£1.39 Inc VAT
Quick view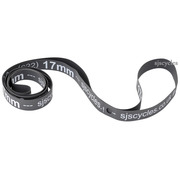 SJSC Reinforced Nylon Rim Tape - 700c 622 x 17mm - Grey
£1.39 Inc VAT
Quick view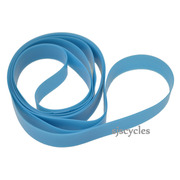 Schwalbe 700c / 622 x 18 mm High Pressure PU Rim Tape
£1.49 Inc VAT
Quick view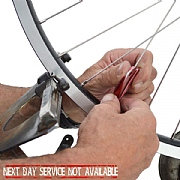 Wheel Build with 14g DT Champion Stainless SILVER spokes - per wheel
£47.28 Inc VAT
Quick view
Product Reviews (8)
Overall Product Rating 4.8 / 5
Excellent
11 Dec 2021
I recommend this product
Pros
Strength and reliability
I built new front and back wheels for my tourer using Sputnik rims and Sapim Strong spokes and since then I have done about 2500 miles . I'm 100kg and my camping equipment is often 25 kg. The wheels have performed extremely well. I have used Sputniks on a subsequent wheel build I have done on my son's bike. I would use any other rim.
Excellent
02 May 2021
I recommend this product
Pros
They run true are strong and resilient.
I built two new wheels for my touring bike using these rims together with Sapim Strong spokes. Since then I have done about 1000 miles. The wheels have needed no adjustments since I originally built them. I recommend them. If you're building them yourself the online Sapim spoke length calculator is spot on and got spoke lengths exactly right.
Really Pleased
04 May 2020
I recommend this product
Really pleased with these rims. A big quality increase from the rims which came with my marin larkspur whose wheels got broken when on top of the car trying to get through an unmarked low height barrier in France.
Particularly impressed with the socket eyelet for the nipples. Build up easily and have been great and look good too.
Good
15 Jun 2018
I recommend this product
Excellent product at a reasonable price, very well packaged but packaging materials a bit excessive in terms of single use plastic that has then be binned.
Awesome Bang For The Buck.
21 Nov 2016
I recommend this product
Just about to but another one for my back wheel which is starting to wear out along the braking surface. I have it in 36H flavour and it has run true through all kinds of Scottish slop for a few years. Brilliant rim.
So Far So Good
07 Aug 2014
I recommend this product
I have 36h sputniks on miche RC2 hubs 700x35 marathon plus front, 38 rear. They run smooth as silk on tarmac and are as true as they started after taking a decent touring load over rougher stretches of the canal du midi when I really should have dropped the tyre pressure a bit. I bought these thinking about touring on trails and will stick with sputnik if I switch to a hub dynamo. I've not covered enough miles yet to comment on longevity but they've had a decent battering.
Sputnik Best Quality/Value
02 Oct 2012
good touring rim (presta valve)
not welded join
Sputniks Are Great!
10 Dec 2010
I recommend this product
These rims are great. Just built up a set for my single-speed commuting bike. I fancied a wider 28-32 mm tyre for the rough cobbles of Edinburgh streets, so went with a touring rim. These are a tenner cheaper than the nearest Mavic equivalent (A319), and only 1/3 the price of the DT Swiss TK 540! They are a bit heavier, but then I'm 15 stone, so can't really complain about the odd gram or two.They built up easily and were very true from the word go, still rolling true after 2 months of use. Ride quality is great, willing to bet they're just as strong as competitive rims, and the price can't be beat. Highly recommended.
What width of rim tape would you recommend for use with these rims?
11 Sep 2021
Thank you for your enquiry, we would recommend SJS Cycles part number 23278

WD 13/09/21
Can this rim be fitted with 700C 25mm tyres
20 Oct 2020
No, the minimum size for this rim is 28mm and max size is 62mm.

Thanks,

JK 21.10.20
Both 32Mm And 42Mm Tyres?
29 Mar 2017
Will this rim fit both 32mm and 42mm tyres? Or even 47mm?
Thank you.
Hi,

This rim is indeed suitable for tyres ranging from 32mm up to 47mm.

Thanks.
Rigida Sputnik 700C , 622 Touring Rim With Css
14 May 2016
greetings
is this item available from you in 36 h in silver finish?

thank you

david merkel
Hi,

We sell this Sputnik rim in Silver, but we do not sell the Sputnik rims in CSS I'm afraid. The silver version of this rim is SJSC part 39438.

Thanks.
Is This Rim Suitable For Both Disc Brake And Rim Brake ?
07 May 2016
Hi,

This rim is indeed suitable for use with both disc and rim brakes.

Thanks.
Will 48H Sputniks Be Available Again?
29 Jan 2015
I have a pair of wheels built with 48h Sputniks, they're great & I'd like to build exactly the same. If unlikely to be available, what 48h alternatives can you offer?
Hi,

Unfortunately the Sputnik rims are no longer available in 48hole. The only 48hole rims we have left are the Halo Aero Warrior SJSC part 21470 and the Rigida Grizzly CSS SJSC part 18886.

Thanks.
Etrto And Stem Saver Compatibility
06 Oct 2014
2 questions.

1) you give the internal dimension as 19mm. Does this mean that the rim is a 622_19?

2) as the stem drilling is Schraeder, will the Wheels Mfg stem saver for Presta tubes fit this rim properly i.e. full reach from inside to outside?
Hi,

Yes as the rim is a 19mm internal it is a 19-622. The Wheels Manufacturing Stem Saver will fit this rim fine.

Thanks.