Ryde Andra 321 700c 622 Disc Rim - Black
Holes
Manufacturer :
SJS Cycles part number :
Manufacturer part number :
Details
SHAPE - double wall
JOINT - pin
TIRE USE - tube
HOOK TYPE - crotchet
BRAKE TYPE - disc
ETRTO - 21C
SIZE (MM) - 622
WEIGHT (GR) - 670
MECHINICAL TREATMENT - raw
CHEMICAL TREATMENT - pre anodized
COLOR - black
SPOKE HOLES - 32/36
DFL, FL, SE, DE, WASHER - ID
VALVE HOLE Ø (MM) - 6,5 F
MAX. SPOKE TENSION (N) - 1400
TIRE WIDTH (MM) - 28-65
MAX. SYSTEM WEIGHT (KG) - 130
Related products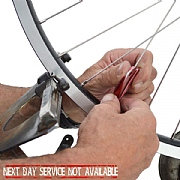 Wheel Build with 14g DT Champion Stainless SILVER spokes - per wheel
£47.28 Inc VAT
Quick view
Be the first to write a review
Feel free to leave a review of this product, good or bad it helps other customers with their buying decision.
Are these rims suitable for clincher tyres?
24 Mar 2021
Thank you for your enquiry, yes these are for clinchers

WD 24/03/21
Ryde 321 622 Compatible with hubs
14 Jul 2020
To check compatibility for my hubs is it only the number of spokes I need to worry about or is there another concern. Looking at the Ryde 321 622 Rims
For hub rim Compatability the biggest factor is making sure the spoke hole count is the same, after that making sure the hub fits the specs of your frame.
What type and sized rim tapes will fit nice with these rims?
07 Jul 2020
22-23mm rim tape will work fine. NOTE these rims are not tubless ready.
Do the 32 hole rims allow for a maximum of 130kg?
10 Apr 2020
Just wondering if the weight spec for these rims applies to just the 36 hole rims or those and the 32 hole rims?
Hi yes according to Ryde all diameters and drillings have the same max system weight! Thanks 13/04/2020
Stated ERD differs from Ryde website
01 Feb 2020
Ryde state 599mm compared with 593mm on SJS website. Ryde (Rigida) used to give NSD (nipple seat dimensions ) which were 6mm less. Is it possible that the 593mm is actually an old NSD? I am looking for and ERD measured to where the spoke ends in the nipple. Either flush with the nipple or flush with the bottom of the screw slot.
Ryde ERD measurements are highly inaccurate, we measure them all ourselves and build hundreds of wheels a year using our measurements.

Thanks - 03/02/20
Hi sjs, are these rims drilled for presta or shraeda? Many thanks
02 Apr 2019
These are drilled for Presta.

Thanks - 02/04/19
Spoke hole specifications
09 Dec 2017
Ryde's website says that this Ryde andra 321 rim can be drilled with different spoke hole angles to fit the required angle of different hubs. could you please provide me with the full specifications of this ryde andra 321 622 MM including spoke hole drill angle, offset and valve hole size? thank you SJS part number 43779H36, MPNRM71321
Hi there,

Ryde offer a standard and a custom option.

We use the standard option for our stock rims which have the following specification:

Dia. Spoke hole nipple bed (mm) 4,5
Zig zag (mm) 1,5 - (Offset)
Valve hole ø (mm) 6,5 F
Angle rad/axi 8°/2° - The spoke holes are drilled and counter sunk so the nipple angle will adjust to what is required.

Thanks