Alloy 27 x 1 1/4 630 Rim - Polished Silver - 36 Hole
Manufacturer :
SJS Cycles part number :
Manufacturer part number :
Details
ETRO 630, 22.5 mm wide (outside to outside) 18mm internal. Pinned join, single wall rim, presta valve hole (could be drilled for car/woods)
ERD - 619
Weight - 520g approx
Width - 23mm External, 17mm Internal
Hooked Rim

Reccomended tyre widths:

Min- 25mm
Max- 35mm
Related products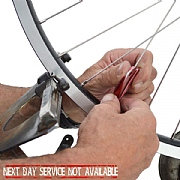 Wheel Build with 14g DT Champion Stainless SILVER spokes - per wheel
£47.28 Inc VAT
Quick view
Product Reviews (7)
Overall Product Rating 4.7 / 5
Highly recommended.
15 May 2021
I recommend this product
Perfect replacement for my old chrome rims. These are much lighter and provide a better braking surface. They look great too!
Fine
04 Sep 2018
I recommend this product
Haven't had them built yet but they look OK. Anyway I couldn't have got them anywhere else.
Very satisfactory,buying again
10 Jul 2018
I recommend this product
Pros
Lightweight but strong
Have bought this rim before and I am still using it without any problems. I thought I would buy this one while it was still available.
Arrived Ok, Seems To Work, So Far
03 May 2017
I recommend this product
Cons
(minor quibble) spoke holes staggered "wrong" way
Pros
Available 27-inch rim
Pleased that I could get a 27-inch rim at all.
Arrived OK, well packed.
Have built it into a rear wheel (my first) on a 70s tourer and it seems OK, so far.
Would have been nice to be given the ERD as I bodged the measurement and bought the wrong spokes.
Bike Restoration
16 Sep 2016
I recommend this product
Nice rims for old bikes.
Budget (Rigida) Rim
13 Jan 2013
came well padded and packaged, a minor scratch on the edge, probably happened before packaging. The only place it seems you can still get rims at a reasonable price. Used it to convert from freewheel to freehub to end the bending braking axle problem.

Tip for anyone considering the same, the postage rolls up so may be cheaper to buy the hub and cassette at the same time.
27 Inch Rim
16 Aug 2012
I recommend this product
Pros
Good rim at budget price.
A budget rim, but was an easy build into a good solid wheel for my 1970s tourer. Looks smart too (shows the old front wheel up now)

(This was my first attempt at building a wheel and it took two evenings.I reckon that scores 5 stars for ease of use?)
Can you please advise tyres?
08 Apr 2020
Can you please advise tyre that would be compatible with this rim? It needs to be tan wall... Would you have any in stock?
These are the tyres that will fit, (copy and paste the link):

https://www.sjscycles.co.uk/tyres-27-630/?size=32%2D630

RT090420
What hub comes with the wheel?
08 May 2018
I am looking for a shimano hub.
Hi there,

The item is a rim only, for full wheels please look under the wheels front / wheels rear / wheelsets section.

Thanks
What is the weight of these rims please
01 Nov 2017
Pedantic I know. But I wondered how these would compare to some of the old Weinmanns I have (apart from haveing more wear left in them) and a lighter Mistral.
Thanks
Hello,

The weight of this rim is approximately 520g.

Thanks.
What diameter are the spoke holes?
18 Oct 2017
Hi,

This rim has spoke holes that are 4mm in diameter.

Thanks.
Tension
03 Feb 2017
What sort of spoke tension is recommended with these rims?
Hi,

Unfortunately, we don't have a recommended spoke tension for these rims. They are a basic construction and are non-eyeleted so it is unlikely that they will be suitable for as high a tension as an eyeleted rim.

Thanks.
What Width Of Rim Tape
03 Jan 2017
I think the only tape which you sell which will fit these rims is the Jante Velox. Question is: what width - is 16mm too narrow, and 22mm too wide?

thanks, Simon
Hi,

For a rim of the width we would normally recommend the Medium 16mm option.

Thanks.
Rims & Rear Gears
16 Feb 2015
Alloy 27 x 1 1/4 Inch Rim Polished Silver 36 Hole
Are these rims the right width for an old Peugoet Road bike or do I need to get 1inch wide rims? What tyres do you have to fit these if they would work for my bike?

I also have a Campagnolo Neuvo Record rear hub, do you have rear cassette / freewheel suitable for this hub? (What is the difference between Freewheel & Cassette)

(Sorry fairly new to all this so learning as I go)

Many thanks

Kenneth
Hi,

This rim should be suitable for use on your bike, any of 27" x 1 1/8" or 1 1/4" tyres will fit these rims. Freewheels screw onto threads on the hub where as cassettes slide onto splines and then have a lockring hold them in place. Your hub is a freewheel hub that can take any of our 5 or 6 speed freewheels and possible a select few of the 7 speed freewheels as well.

Thanks.
Is There A Retaining Bead?
16 Oct 2014
It's impossible to tell from your picture whether there's a bead round the edge of the rim to hold the tyre's bead in place. I wouldn't like my tyres to blow off the rim...
Hi,

Yes there is a bead running around the inside of the rim helping to hold the tyres on the rim.

Thanks.
Do You Have Any 32/40 Hole Rims In 27" X 1 1/4"?
23 Jul 2014
If so, I would be very happy indeed!
Hi,

Unfortunately this 36 hole rim is the only rim we have in the 27" x 1 1/4 size.

Thanks.
Are These 27 Inch Rims Double Walled?
16 Nov 2013
Looking for a set of decent quality 27 1 1/4 rims preferably double walled
Hi,

These are single wall rims.

Thanks.