Brompton 16 x 1 3/8 349 Angle Drilled Double Wall Rim - Silver - 28 Hole
Manufacturer :
SJS Cycles part number :
Manufacturer part number :
Details
For Brompton rear wheels with Internal Gear hubs BWR, BSR and SRAM.

Not compatible with 1/2 speed hub or front hubs.

ERD - 328mm
Width: 23mm External, 15mm Internal

Weight: 315g

Please note Brompton have selling restrictions to some countries who have their own dealers. If you are unsure please contact our sales team.
Related products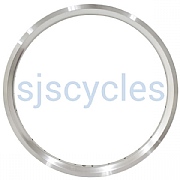 MiniMODs 16 349 Full Colour Wider Aluminium Rim - Silver - 28 hole
£39.99 Inc VAT
Quick view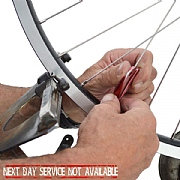 Wheel Build with 14g DT Champion Stainless SILVER spokes - per wheel
£47.28 Inc VAT
Quick view
Product Reviews (1)
Overall Product Rating 4 / 5
Ok double wall rim, looks good but not perfect
12 Jul 2022
I recommend this product
Slight kick in the rim at the weld
I have a three speed Sachs Brompton with single wall rims and need to replace the rear rim.
01 Jul 2020
Two questions.
1)Is this the correct rim?
2)As the rim is double wall I will need new spokes. Which are the correct ones? Thank you
The rim will work however you will need to replace the spokes with the Qspok-148-13g spoke pack, or look for 148mm 13G spokes.

Saya Arich dan tinggal di Surabaya-Indonesia, Bagaiimana saya bisa membelinnya, Terima kasih
01 Mar 2020
We cannot post these to Indonesia, you have to use your local dealer.

Thanks - 02/03/20
Spoke Length for old S-A 5-Speed Sprinter Hub?
22 Mar 2019
I want to use this new rim to rebuild my old Brompton rear wheel with a Sturmey-Archer 5-speed Sprinter hub from the nineties. I think twenty eight 148mm or 149mm 2x crossed Spokes would fit? Is there any need for butted spokes? Shall I use washers at the hub flanges?
Hi there,

Unfortunately, without dimensions of the hub, we cannot give you an accurate estimation of the spoke length that you would need I'm afraid. You should get away with using regular spokes rather than butted ones and again you shouldn't need to use washers, however, if you feel like you should there is no harm done by using them.

Thanks.
28/03/19
I need to replace the rear rim on my Brompton
30 Jan 2018
Actual rim ALESA ALLOY - 219 - 349x19 with a 5 gears Sturmey Archer Sprinter hub and 151 mm spokes.
Does your answer to Marcello in 2014 (SJSC N° 720) still stand?
Hi there,

Brompton single wall rims are no longer produced, so I would suggest upgrading to a double wall rim.

Thanks
Is this rim suitable to rebuild a 6 speed Brompton rear wheel, using existing spokes?
03 Dec 2017
Hi,

Yes this rim is suitable. - as long as your current rim is the same not a single wall rim. For reference the spoke length for a BSR or BWR hub to this rim is 146mm.
Generally there is a sticker on the rim for guidance, but otherwise, fronts use standard, rear 1/2 speed uses standard, rear 3/6 uses angled.

Thanks
How Much Does It Weigh?
15 Nov 2016
Out of curiosity, how much does this rim weigh, so I can compare it with Sun or Ryde rims?

Thank you.
Hi,

This rim weighs 327grams on our scales.

Thanks.
Is This The Wheel For Building A Rohloff Into? Also What Lenght Spokes Do I Require?
16 Sep 2016
bbb
Hi,

You won't be able to use this rim with a Rohloff as these rims are only 28 hole and most Rohloff hubs are 32h. For a 16
Spoke Length For Aw Hub
12 Aug 2016
Hi, I'm building a rear wheel for my Brompton using a 1988 Sturmey Archer AW Hub. What spoke length would be correct with the double wall rim? Also, I know I will need washers for the hub end, but do I need washers for the rim end?
Hi, you need 146mm built 2 cross pattern. If using 14 gauge spokes we recommend using spoke washers at the hub end. If you are using 13 gauge there's no need for washers. Washers are not required at the rim end.
Spokes For This Rim
26 Aug 2014
The rim on my rear wheel is dying, and I've two questions actually.
1) I'm a commuter, I do not intend to use my Brompton as a MTB. For this use, does this rim offer a benefit over the "old" Brompton single wall rim?
2) I've a 3 speed SRAM hub. If I finally opt for this fancy rim, what spokes would I need to rebuild my rear wheel?
Thanks for your help!
P.
Hi,

These are the new standard rim, the older ones have been discontinued. The rim basically offers more strength without adding much extra weight. The spokes you require for your hub with these rims are the 148mm length SJSC part number 31196.

Thanks.
Brompton Rim | Item 31190
06 Feb 2014
Thanks for your quick response. Please send me the link to SJSC part number 720. Or let me know how can I search for it, to find it and order it. Thanks, Marcelo.
Hi,

To find a part just type the part number into the search bar, with this number you will get other options come up as well but the Brompton rim will be there.

Thanks.
Brompton Rim | Item 31190
05 Feb 2014
Can you please confirm me if this is the correct rim, to replace the one I have on my Brompton. I need the rim that fits the Sturmey Archer Sprinter 5 speed hub, that has 28 spokes. I will wait for your response, to order it. Thanks, Marcelo.
Hi,

If you're looking to upgrade to the new double wall rim then yes this is the correct one, but this will mean you will need a different spoke length to what you previously would have used. If you are looking to re-use your old spokes as well then you can still purchase the old Brompton single wall rim which is SJSC part number: 720.

Thanks.