Brompton 16 x 1 3/8 349 Cyber 20 Rim - Black - 28 Hole
Manufacturer :
SJS Cycles part number :
Manufacturer part number :
Details
FOR BROMPTON ELECTRIC BIKES ONLY

Please note Brompton have selling restrictions to some countries who have their own dealers. If you are unsure please contact our sales team.
Related products
16 349 Brompton 1 / 2 Speed Cyber Rear Wheel - Black
£130 Inc VAT
Quick view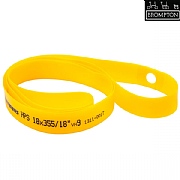 Brompton Rim Tape 18mm - Yellow
£2.50 Inc VAT
Quick view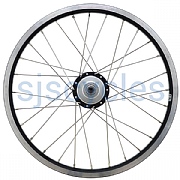 16 349 Brompton / Sturmey Archer BWR 6 Speed Cyber Rear Wheel - Black
£210 Inc VAT
Quick view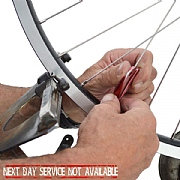 Wheel Build with 14g DT Champion Stainless SILVER spokes - per wheel
£47.28 Inc VAT
Quick view
Be the first to write a review
Feel free to leave a review of this product, good or bad it helps other customers with their buying decision.
Why Brompton Electric fits single wall rims?
06 Nov 2020
What's the reason for being single wall rim instead of double for Electric Brompton?
Is this part suitable for front and rear wheel on Electric Brompton?
Brompton use these as they pass EU Law regulation / testing for Electric Bicycles.

Yes, this is suitable for both rim on Brompton E bikes.

Thanks - 10/11/20
Internal width
28 Feb 2020
What's the internal width?
Single wall - double wall?
27 Feb 2020
Can I use those single wall rims also on a regular Brompton in lieu of the double walled ones?
These are single wall, designed for the Electric Brompton. Yes, you could use this on a standard bike, but know its not a double wall rim.

Thanks - 28/02/20
Spoke sizes
14 Jun 2019
What (black) spokes are the right sized ones to fit a Bromton BRW Hub, and a Front Shimano DH-F703-SB?

Many thanks in advance!
The BWR hub on this rim is 146mm - but this rim is for Electric Bromptons.
For the DH-F703 we would start with Left 134.4mm and Right 130.3mm

Thanks - 14/06/19
What is the difference between this product and the QRIM-28-AGL-BK??
11 Jun 2019
Also, what are the correct size and type of spokes to use to fit a S.A. Hub, and to fit a Shimano front hub?

Many thanks in advance!
This is a single wall rim designed for the Brompton Electric bikes.

You need a non angle drilled rim and 132mm spokes for the dyno hub, for an SA rear, its angle drilled and 146mm.

Thanks - 14/06/19