Joseph Kuosac Carbon 16 349 Rim - Black Logo - 28 Hole
Manufacturer :
SJS Cycles part number :
Manufacturer part number :
Details
Super fast Carbon Rim from Joseph Kuosac.

You will require rim tape and carbon suitable brake pad inserts.

Suitable for any Brompton hub.

ERD - 296mm.
Related products
Joseph Kuosac 16 349 Aluminium Rim - Black - 28 Hole
£59.99 Inc VAT
Quick view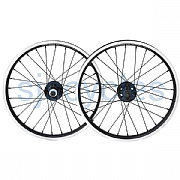 16 349 Wheelset 28H Joseph Kuosac Aluminium Rims w/ Black Front & 2 Speed Rear Hubs & Black Spokes
£439.99 Inc VAT
Quick view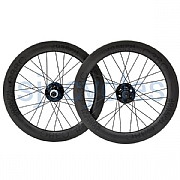 16 349 Wheelset 28H Joseph Kuosac Carbon Rims - 2 Speed - Stealth Black
£959.99 Inc VAT
Quick view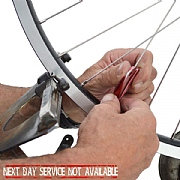 Wheel Build with 14g DT Champion Stainless SILVER spokes - per wheel
£47.28 Inc VAT
Quick view
Be the first to write a review
Feel free to leave a review of this product, good or bad it helps other customers with their buying decision.
Do I need special spokes / nipples for this rim - what is recommended?.
25 Sep 2021
I intend to use my existing brompton front hub
You will require the JK nipples on normal 2mm spokes; SJS Cycles part number : 56718
If you intend to use the OE loose ball bearing hub, we would recommend upgrading to something with a cartridge bearing.

Thanks 28/09/21
What spoke length are suitable ?
18 Jan 2021
What is the spoke length if I use Joseph Kuosac mini front hub 28 hole ?
What is the spoke length if I use brompton BWR 3 rear hub 28 hole ?

Thank you !
Rear - 131mm left, 130mm right.
Front - 132mm

Please note, these are calculated and not built so are not 100% guaranteed.

Thanks
Brompton Compatibility
30 Oct 2020
Many thanks for answering the question so promptly.
One more clarifications.

is the Schwalbe Marathon Racer Tyre can be installed on to this JK C38C rim ?

If yes it great.
If no what kind of tyre this JK C38C Rim will fit in ?

Highly appreciate your valued reply. Reg D
Yes, 25-35mm tyre is fine.

Thanks - 30/10/20
Brompton Compatibity
30 Oct 2020
Pls pardon my ignorance, given that I have limited knowledge..

so this rim is fully Brompton compatible ?
Yes, this compatible with Brompton bicycles. The wheel is the same size as ones fitted on Bromptons however this is a deep section carbon rim used to upgrade Brompton bikes.

JK 30.10.20
For front Can I fix Son dynamo on this Rim for Brompton ?
30 Oct 2020
Hi I earlier purchased a SON dynamo 28H (for Brompton).
Can I fix the Son dynamo on this Rim for Brompton ?

Further I have a SA 3 speed hub for rear.
Can I fix this rim on 3 speed SA hub ?

Your informed reply is much appreciated.

Many thanks
D:)
Yes, both would be possible.

Thanks - 30/10/20
For determining spoke length, what is the ERD?
29 Oct 2020
The ERD is 296mm.

Thanks - 30/10/20
Price of wheel
06 May 2020
Is the price (£349.99) for a single wheel or for the set pair? Thanks a lot.
Hi, that is the price for a single rim. Not a wheel. Thanks
Can I easily fit my 6-speed rear hub onto this rim myself?
26 Apr 2020
Do i require anything additional? Or will my rear hub and existing spokes transfer easily to fit the carbon rim exactly?
No, you will need the skills of a wheelbuilder and (almost certainly) different length spokes RT 27/04/2020RT
Spoke length
10 Mar 2020
What will be the new spoke length, since this is 38mm wide compare to brompton Aluminium which it think around 22mm
This will be dependant on the hub used.

Thanks - 10/03/20
32 holes?
06 Nov 2019
Hello,
I would need 32 holes in order to mount it on an Shimano Alfine hub. Are these rims also available with 32 holes?
Thanks!
Oli
Hi there,

Unfortunately, these rims are only available in a 28h version.

Thanks.
Does it fit for 6 speed brompton?
26 Oct 2019
Does it fit for 6 speed brompton?
Yes, we could build this into a 6 speed hub for you too!

Thanks - 28/10/19
Weight advantage?
21 May 2019
Hi,

I am pondering changing my rims with carbon, but I don't understand what's the advantage, considering the aluminium rims are lighter than these as it seems?

300 gr vs 200 gr in aluminium.

Many thanks
Aerodynamic benefit!
Stiffness is also a benefit, as is looking awesome.

Thanks - 21/05/19
What's the weigh of the ring?
18 Mar 2019
Hi
Thank you for your enquiry, this rim weighs 340 grams.
Regards. 20/03/19