Ryde Andra 30 26" 559 MTB Rim - Regular Drilling - Black - 36 Hole
Manufacturer :
SJS Cycles part number :
Manufacturer part number :
Details
Rim overall width 24mm & inner well width 19mm.

Manufacturer Details:
- ETRTO compatability size: 559 x 19
- Sides: UP
- Width: 24mm, 16mm
- Eyelets: none
- Valve hole diameter: 6.5 mm
- Recommended tyre widths: 28 to 62 mm
- Weight 735g
- ERD - 541
Related products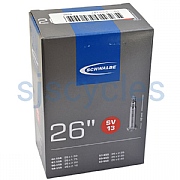 Schwalbe SV13 Presta Tube - 26" Tyres - 40-559 to 62-559
Now from

£4.99

Inc VAT
Typical RRP: £7.99
Quick view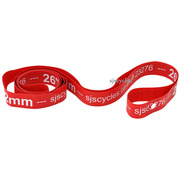 SJSC Reinforced Nylon Rim Tape - 26" 559 x 22mm - Red
£1.39 Inc VAT
Quick view
Be the first to write a review
Feel free to leave a review of this product, good or bad it helps other customers with their buying decision.
building up the rear wheel
26 Feb 2021
can i use this rim to build up the rear wheel due to the regular drilling when using the shimano FH-T610 . thanks
Yes this rim will suit the FH-t610 rear hub. Regular drilling is for all hubs apart from some internally geared hubs.

JK 01.03.21
Custom drilling for eBike hub motor?
28 Nov 2020
The Ryde website say they can supply these with custom drillings. Can you obtain these? I'm looking for a rim to suit a Bafang BPM hub motor with a spoke PCD of 168mm, offset for disk brake. The current rim has the spokes bending where they exit the rim - not ideal! This is for a Thorn Me'n'U2 so overall load is high.
We do not supply these rims, and we cannot comment asto rims to use for Ebike use as most of these parts are not designed or formally tested for Ebike use.

JK 30.11.20
Is this for rim brakes?
21 Apr 2020
Is this suitable for use with rim brakes?

Also, which spokes (and correct length) would go well with this rim and a Shimano Diore FH-M510 hub?
Yes, this is for rim brakes, copy and paste this link for a spoke calculator:
https://www.sapim.be/spoke-calculator
RT 22/04/2020
Ryde Andra 30, 36 hole with Rohloff drilling
12 Aug 2019
Hello,
In the future, will you stock the Ryde Andra 30, 36 hole hub with Rohloff specific drilling? I would like to build a rear tandem wheel with a Rohloff Speedhub, and I may even use the hub on a three person tandem, so I'm looking to do the strongest, most optimised wheel that I can make.
Thanks,
Julian
sorry no. Build the wheel X1 with all the spokes facing IN then you don't need directed holes plus it protects the hub flange plus the deflection at the cross is kept to a minimum. Further discussion bvia email please
[email protected]
can i use this with a sturmey archer 5sp gear hub?
21 Apr 2019
Also any other items i would need to complete a wheel build would be appreciated, no idea what spokes to use.
Hi, yes you can use with a SA 5 speed hub, our wheel build #46573S36 will build a good wheel if you want us to work out the spoke lengths and assemble it.
Is the drilling on this rim compatible with Shimano Deore LX hubs
26 Jun 2018
Is the drilling on this rim compatible with Shimano Deore LX hubs? I assume that the Rohloff drillings are for high flange and 'regular' is suitable for standard/low flange but just wanted to check.
Hi
Thank you for your enquiry. This is the correct rim & will be suitable for your Shimano Deore LX hubs, the Rohloff option has more of an angled drilling on the spoke holes due to the size of the flanges.
Kind Regards

Can I Use A Schrader Valve Tube With This Rim ?
07 May 2017
Hi, You will need to re-drill the valve hole to 8.5mm take the larger Schrader valve.
Is The Specification Listed Correct?
26 Feb 2016
SJS list the recommended tyre range as 28 to 62mm, and an ERD of 541. The Ryde website lists these as 25 to 57mm and an ERD of 535. Why the discrepancy?
Hi,

Our tyre range is the range we put based on our experience with using these rims. Ryde unfortunately don't seem to be able to measure ERD properly, every single rim we stock from them we've had to change the ERD measurement once we've measured it ourselves. We have used the the rim ERD of 541 for these rims for a large number of years and would have built probably close to a 1000 wheels using the Andra 30 rims.

Thanks.