Ryde Andra 20 16 x 1 3/8 349 CSS Alloy Rim - Black - 28 Hole
Manufacturer :
SJS Cycles part number :
Manufacturer part number :
Details
An extra strong rim with CSS coating on the brake surface which almost means no wear ever. Best to use the correct brake pads for CSS/Ceramic.

The rims have directed spoke holes and work well with any hub front or rear but must NOT be built radial.
The spoke nipple leaves the rim directed towards the correct hole in the hub to reduce the spoke bend within the nipple.

ERD - 323mm
Weight - 385g
Related products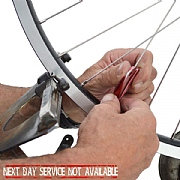 Wheel Build with 14g DT Champion Stainless SILVER spokes - per wheel
£47.28 Inc VAT
Quick view
Product Reviews (2)
Overall Product Rating 5 / 5
Brompton Touring Rim
15 Sep 2023
I recommend this product
Having worn through the standard rims halfway through a tour, I wanted something better. This is definitely it. Had a wheelset built by SJS and so far no signs of wear after a week in Wales
The last rim for your Brompton that you'll ever buy
01 Jul 2021
I recommend this product
Cons
Absolutely requires CSS brake pads, braking is noisy the first 500 miles or so
Pros
Indestructible, really!
If you don't mind a bit of extra weight and you want a rim that's absolutely indestructable then look no further

Built like a tank, it doesn't mind if you weigh 200 lbs or like hitting potholes, the bike frame will go before this rim deforms

CSS flanks on mine still look like new after 2 years of daily use, the only caveat when using rim brakes is that it's imperative that you get CSS-specific ones, anything else is grated away in minutes
Can I use existing spokes to rebuild a rear wheel?
17 Jul 2023
Using a BWR to rebuild after wearing out standard double wall rim
Hello & thank you for your enquiry.
Recommended to rebuild with new spokes to ensure fully compliance fit, tension & ongoing product longevity.
Kind regards pc 17/7/23.
What brake pads would you recommend for these?
10 Apr 2020
What brake pads would you recommend for these? All the ones I've used produce a horrible squeeling noise.
Hi, have you checked you have enough toe in on your brake setup? No toe in can cause squeal. If that doesn't help then you might need a CSS specific pad but that will depend on the brakes you have. Thanks 13/04/2020
What spoke length do you recommend for a BWR Hub and a SON XS Klassik Hub?
14 Jan 2020
Hi SJS,

for a Brompton bike,
what spoke type and length would you recommend with this rim at the rear a BWR Hub and 2 spokes crossing, and at the front a SON XS Klassik hub with 1 spoke crossing?
Thank you very much for your support!
Best regards,

Ben

We would recommend using 148mm for the rear, 135mm front.

Thanks 17/01/20
Can the rim be used with non IGH hub
02 Aug 2019
Can I use them with Hope Pro4 front hub or something similar?
Yes, this would be fine.

Thanks - 02/07/19
Are These Drilled To Take A Schrader Valve?
By
Werner Van der Cruyssen
01 Sep 2016
I couldn't immediately find the info but do these rims take Schrader or Presto valves?
Hi,

These rims are drilled to take Schrader valves.

Thanks.
Effective Rim Diameter
05 Aug 2016
What is the ERD for that rim ? Thanks.
Hi,

This rim has an ERD of 323mm.

Thanks.
Which Brake Pad Do I Need To Use With This Rim On A Brompton?
24 Apr 2016
Is it compatible with the Brompton brake shoe? Does it make sense to use this rim on a Brompton? Which spokes (length?) and nipples do You recommend? thanks!
These pads work with the rims:
http://www.sjscycles.co.uk/page/find/?name=ceramic%20caliper&page=1
Jtek spokes are best, your wheelbuilder will determine the spoke length depending on which hus you are using.