Sun CR18 16 x 1 3/8 349 ABT Alloy Rim - Silver - 36 Hole
Manufacturer :
SJS Cycles part number :
Manufacturer part number :
Details
Presta Drilling Eyelet. A very high quality rim in the 349 size, with ABT (advance brake track) machined sidewall, with eyelets, drill valve to schraeder if needed.
Overall width 22.4mm, inner well width 17mm.
Weight: 310g.
ERD - 340mm
Related products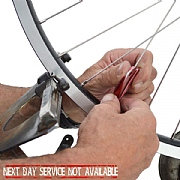 Wheel Build with 14g DT Champion Stainless SILVER spokes - per wheel
£47.28 Inc VAT
Quick view
Product Reviews (3)
Overall Product Rating 4.3 / 5
Good rim but can be impossible to fit certain tyres.
21 Jul 2018
Cons
Tyre fitting ranges from difficult to impossible.
Pros
Good rims, 349 size available in 32 and 36 hole drilling.
There is very little choice of rim in 349 size with 32/36 spoke drilling so worth a look if you use tyres than are not manufactured on the tight side. Do not even think about trying to fit Schwalbe Marathon or Marathon Plus tyres however! I can fit those tyres to Velocity Aeroheat 349 rims without the use of tools or lubrication but the Sun CR-18 349 rim requires metal levers, soap, lots of technique, strength, time and patience. Could not do it at the roadside so had to ditch the rims.
They Look Super Strong
30 Nov 2017
I recommend this product
Cons
Have heard that tyres are hard to get on?
Pros
Accuracy, great design and most of all, strength.
I love the appearance of these rims. They are polished aluminium, double wall with eyelets. In fact the construction is like an aluminium extruded tube curled around and joined to make a circle. The strength must be unbelievably high. They are accurately made and build up well into precision running wheels. Some have a very slight radial wobble at the join, but this is so minor that it is not a concern. Although the holes are offset, they are not angled, so the spoke emerges nearly perpendicular to the rim. I haven't found this a problem, but angled holes would be better. You'll need high pressure rim tape for them, and the best tyre match is the Schwalbe Kojak or the old Stelvio, as the rims are quite narrow. Marathons will also fit. Wheels built with these rims will last for years, so it is money well-spent.
Superb
By
www.davesbikeshed.co.uk
09 Jul 2012
I recommend this product
I suspect if you are looking at this very specialist product we can dispense with banal chat?
Built an electric hub, flange 110mm dia, onto this rim, x2 nipples were at a jaunty angle but all was good, uniform tension into spokes and then 1.5 turns, little lateral truing required. Pricy as I normally do not need to buy retail, but find another supplier in the UK.
Can Schwalbe Marathon or Marathon Plus tyres be fitted to these rims?
08 Feb 2021
Thank you for your enquiry, providing they are the right size they will fit fine.

WD 09/02/2021
Can I fit an electric motor hub to your 16 inch rim
14 Dec 2020
Can your 16 inch 36 hole rim be built with an electric motor hub which has spoke hole PCD of 118mm. I want to build a motor assist on to my Bob Yak trailer.
We would not recommend this as the rims are not designed for use with electric motors.

Thanks, 14.12.20
Can I use this rim with Brompton bicycle?
10 Aug 2020
I am looking for 16 inch rims 36 h for Brompton as I bought motor which need 36h.
Can I use this rim?
Yes, this is suitable.

Thanks - 11/08/20
Please can you calculate spoke length
17 Jul 2020
Sturmey archer AW 3 speed rear and Sturmey Archer small flange front hub. Both from a Moulton F Frame.
We do not have the measurements for those hubs, sorry! You can measure and use https://www.prowheelbuilder.com/.

Thanks - 20/07/20
spoke lengths
25 May 2020
Hello,
What spokes will I need to lace with current Sturmey S2C hub?
Will the spoke angle too steep if laced 3x? Will brass spoke washer help?
Thanks in advance
FrancisLM
X2 would be better than X3 yes, washers are not needed (but IF they would fit on would be helpful) as the S2C shell is alloy, you can copy and paste the link below for a spoke calculator:
https://www.sapim.be/spoke-calculator
RT
What maximum spoke nipple angle can these rims take?
30 Apr 2020
I'd like to use them on a Moulton but I have a 95mm dynohub on the front with X3 spoke pattern and crazy spoke angles (as original). Can I replicate this setup?
NO, the exit angle of the spoke at the nipple will be very poor, why not build x1 (with the spoke heads ALL on the outside) RT
This uses a presta valve. What is the best tube if I am using Swalbe Marathon Racer tyres
21 Nov 2019
This uses presta valve an I do not want to convert to a Schrader valve.
We would use - SJS Cycles part number : 12129

Thanks - 25/11/19
This uses presta valve. What is the best tube for this rim?
20 Nov 2019
Hi there,

It is not the rim that dictates what tube you would need but the tyre. Please let us know your tyre size and we will be able to help you.

Thanks.
Verified ERD??
21 Aug 2019
Hi, has the ERD of 340mm stated here been verified first hand or is it manufacturer provided?
Hi there,

The ERD of this rim would have been manufacturer-provided but double-checked by us.

Thanks.
Could a 16" 1.75 tyre be used on this rim?
04 Jun 2019
no, the bead seat is 349 only tyres of that size will fit, 16 x 1.75 is 47-305, this fits our part # 23892 RT070619
Spoke length
30 Nov 2018
Hi, what spoke length would I need for a Shimano SG 3C40?

I have Schwalbe Kodaks, will these fit?
We are not able to calculate without the hub dimensions, unable to find them online, sorry!

Yes Kojak, no problem!

Thanks - 03/12/18
Tyres for these rims??
14 Oct 2018
Bought one from you and built with electric motor ok . Near impossible to fit Swalbe tyres (normal 16 x 1 3/8") to rim, did so with levers and split tube. -NO GOOD. Can you supply CORRECT size tyre? or where can I buy one?? - USA??
or where can I get one please?
Ernie
Any of these will fit - https://www.sjscycles.co.uk/tyres-16-349/, however the SJS Cycles part number : 46167 will be a bit slim.
SJS Cycles part number : 34684 may come in handy if you are still struggling.
Thanks - 15/10/18
Sun CR18 16×1 3/8 Allgy rim. What size is this and do you have it?
01 Jul 2018
How much is it
The rim size is 16" x 1 3/8, 349mm.

Thanks
Will it work with electric bikes?
01 Jul 2018
There is no reason this would not work with an E bike.
Thanks
Spoke length Rohloff
30 Jan 2018
Hi,

What spoke size is required for a Rohloff 32 hole rear hub?

Thanks
Hi there,

For 1X use 128mm
For 2X use 141mm

Thanks
Spoke size with Shimano Nexus SG-C6000-8C 8-Speed Rear Hub
09 Jan 2018
Hi,

What spoke size is required for the above rear hub?

Thanks
Hi,

For a 36hole 3X build -

Left spoke length: 154mm
Right spoke length: 154mm

For 2X

Left spoke length: 140mm
Right spoke length: 140mm

Thanks
Does This Rim Have A Wear Indicator ?
01 Jul 2016
Thanks
Hi,

There is no wear indicator on these rims I'm afraid.

Thanks.
Dahon Curve D3 Rear Rim
26 Aug 2014
Hi guys!
I wonder if you have a good rear RIM for my dahon d3 curve 36 holes. Before buying it I must be sure is perfectly compatible with mine. Are spokes included?
Thank you very much.
Lorenzo
Hi,

From what I know of the Dahon Curve D3 bike, it use the other version of 16" rims with a ETRTO of 305mm rather than this size which is 349mm. If you can confirm which of these sizes it is you currently have (it will actually be written on the side of the tyre) then I can make sure which options will be compatible with your bike. Spokes are not included as the length can vary depending on what hub the rims are built up with.

Thanks.