Westwood 28 x 1 1/2 635 Chrome Rim - 36 Hole
Manufacturer :
SJS Cycles part number :
Manufacturer part number :
Details
The Westwood rim style of cycle rim is used on bicycles with rod brakes, usually the roadster cycles found in Britain up to the 1960s and still common in the South and East Asia and Africa. Westwood rims have rounded sides, so they are not suitable for use with caliper brakes. The inside circumference of the rim has a slightly concave profile to aid with seating of the brake pads.


Width- 39mm External, 29mm Internal
Related products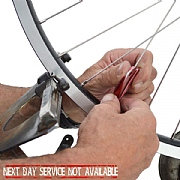 Wheel Build with 14g DT Champion Stainless SILVER spokes - per wheel
£47.28 Inc VAT
Quick view
Product Reviews (2)
Overall Product Rating 3.5 / 5
28
04 Mar 2012
Pros
Strong rims, keen price.
Unfortunately neither of the rims was perfectly round to start with, and, as they are very heavily made,this did not help with building a nice concentric wheel. They do, however, appear to be very strong and well plated, but time will tell!
Westwood 28
07 Apr 2011
I recommend this product
Pros
good rims fit for purpose
Rim slightly misalighned but very slight, not noticable on building as brakes work under the rim and not on the side
What spoke size does this rim take
26 Oct 2019
I'm rebuilding an old Dutch Burco and ordered this rim from the US and, unfortunately, none of the bike shops over hear can find the right spokes and spoke nipples that fit this rim. Do you know where I might be able to find them?
Hi there,

We generally assess each build depending on the hub. We can use a 2mm spoke with washers such as - SJS Cycles part number : 41261

Thanks - 28/10/19

Internal Diameter Etc For Wheelbuilding?
12 Aug 2016
I'd like to know the inside diameter needed for wheelbuilding. Are there any particular issues in building this type of rim? Are nipple washers required with all types of nipples?
Thanks!
Hi,

The ERD of this rim is 626mm. The spoke holes are offset and some nipples may require washers which can make building a bit more trickier.

Thanks.
Rim Size
17 Jun 2015
Hi
Could you please tell me if the 635 number is the diameter of the rim ? If not could you give me the mearsurement of the rim please.
Thank you
Jim
Hi,

The 635 is the bead seat diameter of the rim. This is the diameter of the rim to where the tyre bead sits. The internal diameter of the rim will be much less than this.

Thanks.