Jtek Brooks Saddle Sandwich Combi Twin Rail Saddle Adaptor - Single Bolt
Manufacturer :
SJS Cycles part number :
Manufacturer part number :
Details
Dual rail saddles (B66, B66S, B66 Champion, Champion S, B72, B73, B130) cannot be mounted directly on a standard micro-adjust seat-post. This sandwiches between the rails to fit these Brooks type twin rail saddles to modern micro adjust seatposts.
You will need to use the longer bolt provided.
We recommend using high tensile steel 12.9 grade.
The inner face of the bolt head needs to match the profile of your existing bolts.
- Bolt supplied is M8 thread, 55mm long and is satisfactory for most single bolt seat posts..
For DOUBLE bolt posts check out our part number 52580
Related products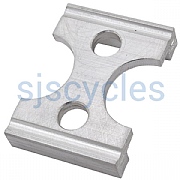 Jtek Brooks Saddle Sandwich Combi Twin Rail Saddle Adaptor - Double Bolt
£14.99 Inc VAT
Quick view
Product Reviews (5)
Overall Product Rating 5 / 5
Needs some effort to fit
27 May 2020
I recommend this product
Cons
Would have preferred a longer boly
It took a bit of effort and a cup of tea to fit between the rails.
The bolt could have been a bit longer.
Otherwise, it works brilliantly,.
My only other option was to fit a replacement seat post which was way more expensive.
Works as expected, fast delivery
17 Sep 2019
I recommend this product
Cons
You need a bit of force to install it.
I needed this to mount a Brooks B190 onto an i:SY DrivE N3.8 ZR. The article arrived fast, and it works as advertised. Good stuff.
Just buy it!
19 May 2019
I recommend this product
The only choice for the Brooks b190. Works perfect and hasn't let me down! Pretty sure that it's the only option and I have no regrets about buying this rather than bodging it in my garage. Also being a heavy rider (160kg) it has coped well ?? considering what you've paid out for your posh saddle, it's a no brainer!
24 Oct 2018
I recommend this product
Nach langer Suche gefunden und dann ein perfektes Teil erhalten und sofort montiert Es hat meine Erwartungen übertroffen und nun macht auch mein Brooks 66 erst Freude
Great For Brooks Saddles
13 Dec 2016
I recommend this product
Cons
More different size bolts please
I bought a brooks b190 saddle, but it would not fit my seat stem, and I could not get a stem my size to fit, as it was 30.04.
I came across this after many google searches, and it done the job.
This just slides into both rails, so is a tight fit.
Only problem I had was the bolt that came with it, as it was not wide enough .
I think its a size 9mm, and mine was 10mm.
Thing is this is a fine thread something b&q , and many others dont stock.
After going to five cycle shops I was running out of ideas until I visited a really old cycle shop who told me where I could get one.
Little shop was called modern screws of Bexley.
The guy took one look, and handed me two, job done now the saddle is bolted like a rock.
Just wish the company who make this would give out a few more different sizes in bolts.
All in all, a great product.

Fitting to a B66s
15 Aug 2018
Hi there,

I'm having a bit of trouble actually getting this to fit in between the rails of a Brooks B66S. Is there a particular way of doing it?

Thanks,
James
There is a bit of a knack to it, some plastic tyre levers can normally be found to help.

Thanks