Brompton Penta-Clip for Rail-Frame Saddles
Manufacturer :
SJS Cycles part number :
Manufacturer part number :
Details
The ingenious and incredibly light Brompton Pentaclip allows stepless adjustment of the saddle angle on rail saddles. Fits to any Brompton ever made, enables you to fit any saddle with 7mm rails to your Brompton.

Weight 108g

Please note Brompton have selling restrictions to some countries who have their own dealers. If you are unsure please contact our sales team.
Related products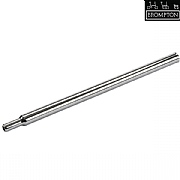 Brompton Standard Length Seat Pillar
£25 Inc VAT
Quick view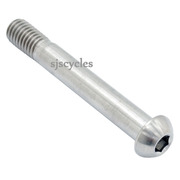 Ti Parts Workshop Saddle Clamp Titanium Bolt
£4.99 Inc VAT
Quick view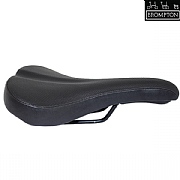 Brompton Saddle with Black Rails - Black - 147mm Width
£39.99 Inc VAT
Quick view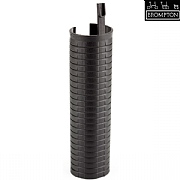 Brompton Saddle Height Insert
£5 Inc VAT
Quick view
Product Reviews (4)
Overall Product Rating 4.8 / 5
Really Good
02 Jun 2021
I recommend this product
Pros
Easy to adjust for ideal comfort
Should have got one of these for my old Brompton ages ago. Infinitely adjustable and keeps its position.
25 Nov 2016
I recommend this product
excellent product quality you pay
Stepless Adjustment
09 Sep 2012
I recommend this product
Cons
Single rail saddles only
Excellent clip for old style seat pins and single rail saddles.
Quality, pricey but easy secure adjustment (allen key) to any angle.
Brompton Saddle Penta-Clip
06 May 2011
I recommend this product
Pros
adjustment, stability, quality
Bought as a replacement for the original (now very old) click/ratchet style saddle clamp, this is just so much better. The clickless adjustment means that the saddle can be located at precisely the right angle and the clamp seems to be cunningly made so that it doesn't slip. Maybe it seems a little expensive but when you see the quality you realise where the money goes.
Can I use this for Brooks B17 special copper?
27 Jun 2020
I have Brooks B17 special copper, will it fit with the saddle? The original pentaclip I have got from Brompton doesn't fit, is there any alternative so I can use the saddle in my M6L?

Thanks.
The B17s fit the standard issue pentaclips, assuming you have a very old one, you would need this. Also look at -SJS Cycles part number : 52845

Thanks - 29/06/20
Will this fit all Brooks Saddles?
25 Oct 2019
Is the rail-to-rail distance 43mm? My Brooks Professional appears to be around 47mm.
Hi,

this is designed for rail saddles with a rail spacing of 43 mm (centre to centre) and a rail diameter of 7 mm.

Thanks.
22mm seatpost and 7x9mm saddle rail
29 Sep 2019
Hi,
Will this clip work with 22mm seatpost and 7x9mm saddle rail?
Thanks

Brompton Pentaclip.
09 Jan 2019
Hello,

just wondering which diameter seat post the Pentaclip will fit. 22,2mm?
Hi there,

It is indeed 22.2mm.

Thanks.
10/01/19
Moving saddle back and forth?
18 Apr 2018
Is this adapter not available/produced any more (http://ep.yimg.com/ay/nycewheels/saddle-adaptor-pin-part-qsapa-10.jpg)?
Hi there,

The rails of the saddle allow some adjustment back and forth, but unfortunately that adapter is no longer produced. You may be able to find something suitable online though.

Thanks
Moving Saddle Forward As Far As Possible
30 Aug 2016
I have the opposite problem to the earlier question. Can the clip be positioned forward of the post, to move the saddle forward ? If so, roughly how much further forward would it be than with a standard seat post ? Thanks
Hi,

This clip in theory could be used to move the saddle forward, it would allow around 15mm of distance forward from the centre mark.

Thanks.
Does Pentaclip Go With Any Post?
12 Jul 2015
I have a single rail saddle, but want to fit it on a Steco pinup saddle post with a near horizontal cantilever welded to it designed for very rearward saddle position. Can I turn the Pentaclip the almost 90 degree required and still have a stable connection?
Weird configuration, maybe, but I would love to try out your clamp.
Thank you
Hi,

You should be able to mount this Penta-clip at most angles and still be able to gain a secure fitting. the only thing to make sure is that the mounting part of the seatpost is 22.2mm in diameter.

Thanks.
Can I Use This To Fit Brookes Saddle Onto Dutchie Dapper
13 Jun 2015
I have a brookes twin rail from a Pashley roadster, I have since acquired a dutchie dapper and would love to use my saddle on this bike.
An ebay/Chinese twin rail fitting failed first time (I am 20 stones!)
Is this adaption possible?
Hi,

This Brompton Penta-Clip is actually only designed for single rail saddles and will not work with your twin rail saddle I'm afraid. The only thing I can recommend is running something like a modern micro adjust seatpost with one of our adapters SJSC part 28524.

Thanks.
Brompton Pentaclip
04 Mar 2014
what's the weight of the Brompton PentaClip?

Thank you for your answer,
kind regards
Werner
Hi,

The Brompton Pentaclip weighs 120 grams.

Thanks.