Manufacturer :
SJS Cycles part number :
Manufacturer part number :
Details
A clever adaptor which allows an EXTRA 4cm adjustment forward or back. Fits most single bolt micro adjust seatposts, this can offer a very radical saddle position, forward or back.
Discontinued By Supplier - 02/03/2022
See link below to a BETTER solution: the Ergotec Vario Futura Adjustable Layback Seat Post
Related products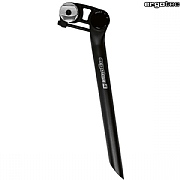 Ergotec Vario Futura Adjustable Layback Seat Post - Black - 400 x 27.2 mm
£84.99 Inc VAT
Quick view
Product Reviews (5)
Overall Product Rating 4.8 / 5
Love it
19 May 2022
I recommend this product
Pros
Easy to fit and works as advertised
Needed slightly more space to move saddle bakc and increase angle of legs to pedal. This did the job wonderfully. Easy to order, speedy delivery and no problem in fitting. Makes a gret difference to the bike in a safe and secure way.
Just what I was looking for.
04 May 2021
I recommend this product
I needed to move my position back a little but my Brooks saddle wouldn't go any further. This worked perfectly.
Just the job
01 Nov 2020
I recommend this product
Cons
The only issue is that occasionally you have to re-tighten the bolt - a minor issue.
Pros
Gets you in the correct cycling position
For years I had to put up with not having my cycle seat in the right position, why the manufactures cannot have seat post system to cater for all? is beyond me. Then VK saddle adjuster came to my rescue and I now have had many years of back pain free rides.
29 Jun 2019
I recommend this product
Excellent product, very fast delivery. highly recommended.
brilliant solution for adjusting saddle
27 Apr 2019
I recommend this product
Pros
solid. easy to mount. works well.
Although I initially couldn´t imagine, this is an excellent piece for adjusting the saddle for some extra length. It´s very solidly built, the mounting works easily and straight forward. It´s really big help, I can recommend this to everyone, who needs some extra length or just wants to experiment with his saddle position!
Is this compatible with Peloton bikes?
20 Oct 2021
Is this compatible with Peloton bikes?
Sadly we cannot confirm as we are yet to test it with a Peleton Bike
What size bolts and are they compatible with the original clamps?
06 Dec 2020
The bolt supplied with the VK has to go through the seatpost hole and lower saddle clamp. What diameter is this bolt? The original seatpost bolt then has to go through the second VK adaptor hole. What diameter bolt is correct for this?
Thank you
Hi, the overall length of the bolt is approx 58mm, and is m8 threaded. The threaded section is approx 27mm long and the bolt diameter is approx 8mm.

Hope this helps

JK 07.12.20
Can I use this with a street suspension seat tube.
15 Nov 2020
My Trek VERVE 1 E low step, I've had a suspension seat post but I need a little more back movement on the saddle. With 31 inside leg, Med frame, seems ok. It's like the seat needs to be higher, but I have to be able to sit on the saddle to start off.Thought this adapter might give me that extra length without going up higher. I've turned the handle bars upwards a spittle to help me sit up straighter, pushed the saddle back as far as I can, and lifted the seat 1/8" higher. I can still get on and start the ride from sitting position.
We cannot confirm this without having your bike here in the shop to test fit.

JK 16.11.20
Can I use this with a giant propel aero seat post?
08 Nov 2020
Hello, I'm afraid we cannot confirm this.

JK 09.11.20
Are you still able to tilt the saddle with this mounted since this is flat?
05 Nov 2020
Hello, I'm afraid we cannot confirm this as its very dependant on the Seatpost this is being fitted to.

JK 09.11.20
A brompton bike
20 Oct 2020
Hi can this be used on a brompton seat post?
No, there is no way of fitting these, and generally there is no need of pushing the saddle that far back! Knees in line / in front of the forward pedal axle when level.

Thanks - 23/10/20
Cane Creek Thudbuster ST?
13 Jul 2020
Is this adapter suitable for the aforementioned suspension seatpost?
No, this is not compatible
Looking for a sit back adjuster for a Raleigh pioneer metro LX
29 May 2020
I can send pictures if you let me have your email address ??
When will it be available
15 May 2020
Hi, sorry we have no accurate time on this item. My best estimate is 2-4 weeks. Thanks 15/05/2020
is this in stock and when can you ship
05 May 2020
Hi, yes it is in stock. We are a couple of days behind on normal mail order. 06/05/2020 Thanks
Will this fit a suntour nx suspension seat post?
27 Jul 2019
HI there,

Unfortunately, this will not fit on that saddle I'm afraid.

Thanks.
I need something like this but that fits a suntour suspension seatpost
05 Jul 2019
Hi! I have a great Suntour spring seatpost, but it sets the saddle just too far back for my preferred cycling position. THis is the sort of thing I need, but I dont think would fit, as the seatpost wants to receive saddle rails. Can you advise? thanks!
This adapter is designed for railed seatpost fittings, please send a photo to
[email protected]
and show us the seatpost top.
Thanks - 05/07/19
Weight limit?
29 Jul 2018
Is there a suggested weight limit on this device? Or a suggested usage scenario?

My concern is if I am pushing back hard on the saddle and the whole thing snaps, I'll be in a painful place! I am 72Kg myself.

Thank you.


The manufacturer publishes no information, we have sold these for years and never seen a broken one.
VK Saddle Adjuster: Is it in stock?
03 Jul 2018
Please refer to the product page for up to date stock information on the right hand side of the screen.

Thanks