Brompton Extended Seat Pillar
Manufacturer :
SJS Cycles part number :
Manufacturer part number :
Details
Steel seatpost with Chrome finish.

Overall length is 590mm. (60mm longer than the standard)

Brompton standard 31.8mm diameter with flared end.

Weight: 400g

Brompton seatposts do not require any grease, copper slip or lubrication.

Please note Brompton have selling restrictions to some countries who have their own dealers. If you are unsure please contact our sales team.
Related products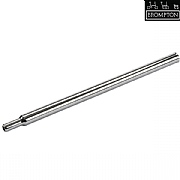 Brompton Standard Length Seat Pillar
£25 Inc VAT
Quick view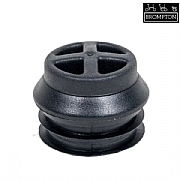 Brompton Press-Fit Replacement Seat Post Bung
£5 Inc VAT
Quick view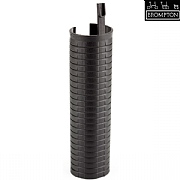 Brompton Saddle Height Insert
£5 Inc VAT
Quick view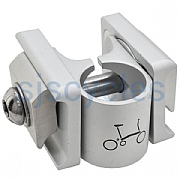 Brompton Penta-Clip for Rail-Frame Saddles
£32.50 Inc VAT
Quick view
Product Reviews (4)
Overall Product Rating 4.8 / 5
Good Brompton Extension Seat Post
11 Aug 2016
I recommend this product
Works well for 6' - 6'2" cyclists.
Not For A Brompton.
31 Aug 2012
I recommend this product
Cons
have to get a bit holds the saddle
Some ago a friend said that a Brompton set pin would fit an my Moulton APB.
The one I'v now a too short.
So I tried it with Brompton Extended Seat Pillar,
It does fit fine. The wide bit goes under the collar on the bike.
Easy To Fit - Can Make A Lot Of Difference To Riding Comfort
24 Mar 2012
I recommend this product
Pros
simplicity, ease of fitting, low cost, good saddle height
I'm only 5'10" but found the original post a bit short. I considered the telescopic but bought this one for cost and simplicity. I once asked a fellow bromptonaut if his saddle could be pinched because of his telescopic quickrelease. He didn't know, tried it, and was alarmed to find that the top pin and saddle were easily removed. I know that brompton riders generally don't have to leave their bike anywhere vulnerable so may not worry about this. I looked quite hard for information on fitting this post but found none. However, with the saddle removed, it was a simple matter of slipping the old one out the bottom and pushing the new one up in its place. It's worth cleaning the new one with detergent and giving it a good rinse and dry to avoid any danger of factory oil making it slip when clamped. And I wonder if this replacement is just the tiniest bit smaller in diameter as I had to pinch up my seat clamp by about a quarter turn. As for the resulting saddle height whereas it was too low before, it's a smidge too high now at full extent. I may cut off about 20mm from the new length and flare out the bottom end so that I can pull it fully out and know it's at the perfect position.
A Seatpost For The 6Ft+ Brigade
23 Nov 2010
I recommend this product
Exactly the same as the stock post but longer - pedalling is far easier now I can get my seat to the right height!
Long Vs short?
28 Jan 2018
Will this enable both shorter and taller riders to use the same bike or does fitting the longer seatpin restrict how much it can be lowered for shorter riders? We have a 5inch difference in leg length.
Hi there,

The extended seatpost is 60mm longer, the only really difference when lowering is the saddle will be 60mm higher when full folded.

Thanks
Changing saddle
15 Nov 2017
Hi,

I have a carrera crosscity bike and I want to change the saddle with a suspension one. The current seat post diameter is roughly 34mm. What is the diameter at top and bottom. I want to buy following saddle: Zacro Bike Saddle - Black Bicycle Saddle with One Mounting Wrench - Cycling Seat Cushion Pad
Will these fit together?

Thank you.
Hello,

The top of the tube is approximately 22mm and the bottom is approximately 33mm. It should be compatible with the saddle you are looking at getting.

Thanks.