14/15g DT Competition Stainless Steel Double Butted Spoke with 12 mm Brass Nipple - Pack Of 6
Length
Manufacturer :
SJS Cycles part number :
Manufacturer part number :
Details
The classic lightweight spoke for all round use. The 14/15 gauge double butted spoke is 1.8mm thick in the centre to save weight, but 2mm thick at the end where strength is needed whilst the butting process adds strength through cold forging of the metal. Made from X5 stainless steel, containing chrome for rust resistance & nickel for strength. The rolling of the nipple thread removes no metal from the spoke & preserves the grain of the material, maximising strength. Comes supplied with 12mm DT Swiss brass nipples.

Weight: 382g for 64 x 264mm length spokes i.e. 6g per spoke.
Used by most of the world's best wheel builders.
Related products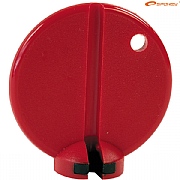 Spokey Red For Euro / US Spokes
£8.99 Inc VAT
Quick view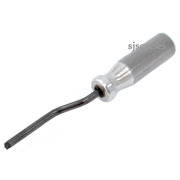 DT Swiss Proline Spoke Nipple Driver
£64.99 Inc VAT
Quick view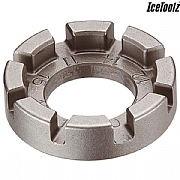 IceToolz 8 Groove Spoke Wrench
£4.99 Inc VAT
Quick view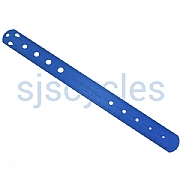 Park Tool SBC-1 Spoke Ruler Bearing & Cotter Gauge
£8.99 Inc VAT
Quick view
Product Reviews (13)
Overall Product Rating 4.5 / 5
DT simply the best
09 Aug 2017
I recommend this product
Top quality spokes engineered from best materials to provide robust wheels
Great Spokes
03 Mar 2017
I recommend this product
Wheel built up easily with the spokes ending up nice and flush to the flange.
Good Quality
18 Dec 2013
I recommend this product
Pros
Quality, Build, Reputation, Good availability of lengths
DT Swiss Competition or Sapim Race are the only spokes I would use on an expedition tourer. Bought the six spares with a recent wheel build and would carry on a long and/or remote tour just in case.
A Spoke For All Terrain
26 Jan 2013
I recommend this product
Pros
durable , light, high quality, consistant performance.
Have been using DT Swiss Competition Spokes for years. I started using DT Swiss spokes after the failure of several spokes from another well known brand in a custom wheel I had built by a LBS. I now build my own wheels and haven't had a spoke failure since. I think DT Swiss Competition spokes are a good all round spoke and I have used them in both MTB and Road wheel builds. SJS Cycles have the best range of DT Swiss spokes on the Net .
The Best All Round Spokes
15 Dec 2012
I recommend this product
Having been on other sites most do not supply full range or only supply large quantities.
Spokes Is Spokes!
09 Dec 2012
I recommend this product
Cons
An option to buy 32 would be good, I have 4 left over!
Pros
All of the good reviews
I agree with all the previous reviews. I wanted a set for a rear wheel so did not want 36 the same size. I had great difficulty finding the right number of quality spokes on the web. SJS have the goods & nobody else sells them in sixes so I could buy 36 of the right size! I won't waste my time looking elsewhere when I want some more!
Spokes In The Right Numbers
31 May 2012
I recommend this product
Pros
All sizes in small numbers
DT Swiss are, of course, the professionals choice and SJS let you buy them in small numbers and they have all the sizes in 1mm increments which allows you to build perfect wheels! Excellent service as always from SJS.
Lovely Spokes, Excellent Service
11 Apr 2012
I recommend this product
Pros
High Quality, Avail in 6's.
I was recommended to SJS by my uncle. Very impressed with price and service.

Spokes are difficult to review but these DT Swiss spokes are the best in my opinion.
Good Service
23 Mar 2012
I recommend this product
nice products and good service
Never Had A Failure Through Normal Use
29 Dec 2011
I recommend this product
Cons
14 / 16 might be just as good and lighter
Pros
Top reliability and quality
Absolute top quality spokes. More reliable than Sapim (broken at bend). Would like to try 14 / 16 for lighter duty / front wheels, I've never had a spoke smap in the middle.
I like the nipple shape as it seems to bed into the eyelet better than some I have used.
Agree with other positive comments posted.
No Complaints
02 Sep 2011
I recommend this product
Well I can't think of anything to complain about. All the spokes and nipples were perfectly finished and appeared to be of top quality. I've built the wheel (which was a pleasure) and it's now keeping the front of by bike from digging into the tarmac....perfectly!!!
Nice Product...
12 May 2011
I recommend this product
These are quality spokes. Nuff said about them.
I like SJS selling them in multiples of 6. Makes it easy to buy the correct number when building a wheel, unlike other suppliers who insist on selling them in packs of 10 (at the very least), where you have quite a few 'spares' that you will probably never use!
Nice...
03 Apr 2011
I recommend this product
quality finished spoke
Spoke check
23 May 2018
Hi I am about to place an order for some of your DT competition spokes and wonder if you could verify the length for me: Rim mavic Open Pro 32 hole, Hubs Shimano HB6800 front, Shimano FH 6800 rear. pattern 3 X. My calculation as is stands is front & rear non drive 297mm rear drive 295mm.
Many thanks. Ceri
Hi there,

Assuming you are using the older style rims, we would suggest, 295mm front Left and Right, and 294mm rear Left and 292mm rear Right.

Thanks
What colour are these?
19 Feb 2018
Hi there,

These are silver spokes.

Thanks
I've ordered some DT Swiss revolution 298mm spokes from you. Can I swap these for competition 294mm?
09 Aug 2017
Hi, please contact our customer services, they will sort this for you. customerservice@sjscycles.com Thanks