Rohloff Speedhub 500/14 Hub Gear Reversible Splined Sprocket Steel
Teeth
Manufacturer :
SJS Cycles part number :
Manufacturer part number :
Related products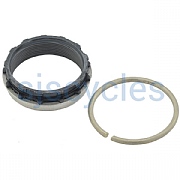 Rohloff Splined Sprocket Carrier Slim - 8540S
£31.99 Inc VAT
Quick view
Product Reviews (8)
Overall Product Rating 4.9 / 5
A real advance on screw on system
10 Apr 2023
I recommend this product
Cons
None that I have encountered
Pros
good selection of sprocket sizes available
I have changed rear sprockets several rimes on my 2006 Raven Tour and I never enjoyed the shock jolt as the old sprocket broke free with the chain whip.Now a much cheaper replacement sprocket and a more enjoyable job to change the sprocket
Does the job
09 Sep 2020
I recommend this product
Pros
Quicker to fit than previous version
Much quicker and easier to fit than the previous screw-on version. Clean and blemish free on receipt.
excellent
31 Mar 2020
I recommend this product
Pros
easy fit, reversable inexpensive
Noisy chain line, worn rear sprocket, it was new in 2006!had the upgrade so did not need a removal tool for sprocket, changed same with only a scewdriver and a pair of snipe nosed pliers,took a minute, if it lasts as long as the other, even better, and at a good price too.
Easiest way to revise your gearing
11 Feb 2019
I recommend this product
I got the 18T sprocket to replace the 16T that came with my year old Rohloff. An easy swap with just a snap-ring to contend with. This effectively eliminates my old highest gear that I never used anyway, and provides a much more useful lower gear for those sustained climbs. Also means less time peddling in the noisy 7th and more time in the nicer 8th for the same effect. Thank-you SJS for the swift delivery and professional follow through.
Just the job.
02 Nov 2018
I recommend this product
Bought the 19 tooth sprocket to replace the 16 tooth on a new Rohloff hub. Easy to fit and works fine.
Just the job
07 Jun 2018
I recommend this product
Cons
None except the additional cost of the carrier this time
Pros
Much easier to fit than the screw on version
What can I say? It's a sprocket - nice quality, easy to fit and should be easy to replace next time.
I previously had the screw on version so it's initially a bit expensive having to replace the carrier and the sprocket.
Good idea
02 May 2018
I recommend this product
Cons
None as far as I can see
Pros
Hopefully easier to remove sprocket in future
Just replaced my old style screw on rear sprocket with the new upgrade spline carrier and sprocket, going to be much easier in future to swap over/out old sprockets by just removing a split ring rather than a visit to LBS to ask mechanic to remove screw on sprocket on bench vice as previously due no doubt to huge amount of torque being generated on the tandem, which results in sprocket being too tight to remove using chain whip and spanner.
Well Made
28 Nov 2017
I recommend this product
Worth carrying an extra on a very long tour. Easily fitted to the splined carrier en-route. Quality Rohloff part.
What other parts will I need to convert from the old style screw on sprocket? Thanks
10 Mar 2020
Hi, you will need a Splined Sprocket Carrier part 43202. Thanks 12/03/20
Reduce gearing on Rohloff equipped Nomad
08 Mar 2018
To reduce the gearing would it be preferable to increase the sprocket , currently 16t or reduce the chainring , currently 42t ?
Hi there,
Please call our Thorn sales team on 01278 441505 or email -
[email protected]
Thanks
have you stopped selling the 14t sprocket?
05 Nov 2017
Hi,

Rohloff have advised that the 13 and 14T sprockets can only be used for small wheel bikes. So they have been removed from the website to make sure they aren't purchased for the incorrect bikes.

Thanks.