Rohloff Splined Sprocket Carrier Slim - 8540S
Manufacturer :
SJS Cycles part number :
Manufacturer part number :
Details
Retrofittable narrow splined sprocket carrier. 55mm chainline, NOT for Gates Belt, or 13+14t sprocket.

Note: When reversing/replacing the Splined Carrier the Rohloff sprocket tool Art No. 8508 must be used (SJSC Part Number 41415).
Related products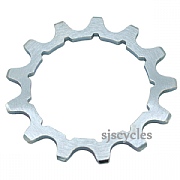 Rohloff Speedhub 500/14 Hub Gear Reversible Splined Sprocket Steel
£13.99 Inc VAT
Quick view
Product Reviews (6)
Overall Product Rating 4.8 / 5
01 Apr 2022
I recommend this product
Pros
A neat conversion to improve your old Rohloff
Neat conversion kit. Was a bit of a struggle removing the old threaded sprocket, until I came across a YouTube clip showing a chap squeezing the chain whip and adjustable spanner towards each other one handed, rather than trying to push them away from each other with two hands. This conversion will make changing rear sprockets a doddle
A nice treat after struggling with screw-on sprockets for years
10 Nov 2020
I recommend this product
Cons
None really. Though you need the removal tool to engage the old threaded sprocket.
Pros
Makes replacing a Rohloff sprocket MUCH easier.
I just replaced the original screw-on type sprocket with the splined carrier on my old Raven Catalyst. As I get older, I realize life is too short to wrangle the dastardly threaded sprockets any longer!
A worthwhile upgrade
26 Jul 2019
I recommend this product
Pros
Makes future sprocket replacement very easy.
This is becoming an essential upgrade as availability of threaded sprockets declines. In any event if you're having to replace a sprocket it's worthwhile because it makes future sprocket replacement/reversal a doddle. The new Splined sprockets are also cheaper and less bulky to carry as spares on expeditions. You'll still need Rohloff's so called sprocket removal tool and a chain whip if ever you need/want to remove the carrier.
Just the job
07 Jun 2018
I recommend this product
Cons
None really except the initial price
Pros
Should be cheaper & easier to replace sprocket next time
Excellent quality as expected from Rohloff.
Easy to fit - once old sprocket removed.
My old screw on sprocket needed replacing so I took the opportunity to change to the splined version.
Good Upgrade
28 Nov 2017
I recommend this product
Cons
Quite new on the market therefore not fully tested on very long tours
After a couple of times over the years trying to remove the original threaded cog (and succeeding with difficulty!), this solution means you don't need t carry a chain whip and big wrench on a multi-month or multi-year tour. The new replacement cogs are also smaller and easier to carry.
Fitted It And It Works Fine
19 May 2017
I recommend this product
Pros
Looks like an easy job to change or reverse the sprocket in future.
I fitted it with no problems and it works fine. You do need the tool to remove the old screw on sprocket. (I Had one already.) It would be an idea if SJSC could offer a hire and return on that tool as you should never need it again.
8540S for Raven Catalyst too?
27 Jan 2020
Hi, replacing broken 16T threaded sprocket with splined sprocket on my beautiful raven catalyst - 8540S carrier too?

Cheers
Hi
Thank you for your enquiry, yes you will also need our item #43202 Rohloff Splined Sprocket Carrier Slim - 8540S to carry out the conversion.
Kind Regards. 29/01/20

Chain-line
03 Aug 2019
Hello I've just received my standard splined carrier 8540 for my 12 year old Raven Sports and will be using a 19 tooth splined sprocket to replace a 17 tooth threaded sprocket.
The information leaflet state's that the chain-line will change from 54mm to 57mm
So is it okay to use the standard 8540 carrier or should I buy the 8540S ?