Manufacturer :
SJS Cycles part number :
Manufacturer part number :
Details
Includes;
- Tyre levers with 8mm and 10mm spanners
- 15mm spanner with ratchet driver
- Pozi and flat screwdriver bit
- 2.5mm and 5mm hex bit
- 3mm and 4mm hex bit
- 2mm and 6mm hex bit
- Puncture repair patches
- Sandpaper

Please note Brompton have selling restrictions to some countries who have their own dealers. If you are unsure please contact our sales team.
Related products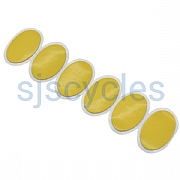 Brompton Tyre Repair Patches for Toolkit - Pack of 6
£2.50 Inc VAT
Quick view
Product Reviews (7)
Overall Product Rating 5 / 5
Great well designed tool
02 Feb 2021
I recommend this product
Will be carrying this when using my Brompton which I usually use for touring. No need for my multi tool, tyre levers or my 8mm, 10mm and15mm spanner as the Brompton tool has all of these. I've tried the tyre levers and they work well on a Schwalbe Marathon tyre.
Superb
26 Jan 2021
I recommend this product
Pros
Compact, well designed
What a great toolset. OK, it's not cheap but it's very well thought out and designed. It's also very compact and fits inside the frame easily.
Great design
14 Oct 2020
I recommend this product
Cons
expensive, but you get what you pay for.
Pros
great design and all the tools you need.
This is a great bit of kit, typically good Brompton design. My lightweight Brompton came without a toolkit and this was out of stock for a while, but SJS emailed me when back in stock and I love it.
Great Multi Tool
07 May 2020
I recommend this product
This multi tool is perfectly designed & is well worth buying as you never know when you may need it
A Heavyweight Jewel
14 Oct 2016
I recommend this product
Cons
Somewhat heavy and easily stolen when bike is folded
Pros
Cleverly-designed and beautifully made
Pure indulgence for man and machine, justified in my case by the need for a suitable 15 mm ring spanner. Be aware that the custom design means a heavier package than other multitools. The glueless patch and sandpaper seem like an easily-lost after thought
Love It!
25 Aug 2016
I recommend this product
Cons
Expensive - but what cost do you put on getting stuck miles from your hotel in a foreign country?
Pros
Good selection of tools discreetly stowed on bike.
Brilliant product, the all-metal tyre levers feel much better than the old style plastic ones, and I've already used most of the various tools fitting lights and custom parts. Well thought out and made.
Great Piece Of Kit
17 Feb 2016
I recommend this product
Pros
Nifty location in frame
A well thought out package that replace a ragtag assortment of tools. Brilliant for when we use our Bromptons for short weekend breaks.
Clever use of outside tube to give extra leverage for 15mm spanner so you get the rear wheel out.
Its The New Version Of The Toolkit
15 Dec 2013
That is the new version of the toolkit?
Regards,
Antonio
Hi,

Yes this is the new version of the Toolkit with the metal lever.

Thanks.