Cyclo Spoke Machine, Heavy Duty Cast, Suitable for Bench or Vice Mount
Manufacturer :
SJS Cycles part number :
Manufacturer part number :
Details
Pro Spoke Machine

Suitable for bicycle and motorcycle spokes from 14g to 8g. Heads available separately.
-Heavy duty zinc casting with facility for bench mounting or being held in a vice

Heavy Duty Cast, Suitbale for Bench or Vice Mount, Head NOT Included
Related products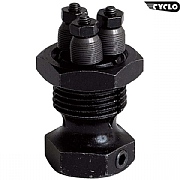 Cyclo Spoke Rolling Head
£36.99 Inc VAT
Quick view
Be the first to write a review
Feel free to leave a review of this product, good or bad it helps other customers with their buying decision.
do you have the head that can be use in 8g
19 Jul 2017
i would like to buy the set of spoke thearder that can be use in 8g.
how can i order or buy with you.
thank you.
Hi,

Unfortunately the only heads we have are 12, 13 and 14g. We're not able to get hold of an 8g head I'm afraid.

Thanks.
How Well Do These Tools Work With Stainless Steel Spokes And How Long Do The Heads Live.
07 Sep 2016
How well do these tools work with stainless steel spokes and how long do the heads live.
Hi,

These tools are fine for use with stainless steel spokes. It is impossible to say how long these tools will last as proper careful use will allow them to last 10 times longer than careless use.

Thanks.
Where Can I Buy 8 / 9 / And 10 Gauge Spoke Rolling Heads
01 Jun 2015
head are required for cyclo and hazon spoke threading machines,
Hi,

Unfortunately I do not know of anywhere that sells 8, 9 and 10 gauge spoke rolling heads, we are only able to get hold of them in 12, 13 and 14 gauge I'm afraid.

Thanks.
Please What Exactly Does This Machine Do And How?
11 Aug 2014
How does this machine work, what are the attachments and how do they work?

Is there a PDF on this device explaining what and how it works, what it does and info on attachments and how they work, and what they do?
Hi, this is a spoke rolling machine to be used with the Spoke Rolling Head (our Part Code #26319) which when used together will cut a thread into a thread less spoke. The heads are available in a selection of gauges depending on what you require & each size is sold separately. To get an idea of how this works visit https://www.youtube.com/watch?v=4qN0XX8Byj8 . Regards, Jamie
Are The Thread Rolling Dies Supplied Seperately?
24 Dec 2013
Hi,

Yes they are available, they are SJSC part number: 26319.

Thanks.