Park Tool FR-2 Freewheel Remover - Suntour 2 Peg
Manufacturer :
SJS Cycles part number :
Manufacturer part number :
Details
Heat treated alloy tool steel, one inch base fits wrench or bench vise. Thin wall construction allows use without removal of cones and locknuts.

- Fits older Sun Tour two notch freewheels.
- Two notches are approximately 25mm across measured outside to outside.
- Always use a skewer or axle nut to hold remover firmly in place
- NOTE: The Sun Tour four notch freewheels do not accept the FR-2 remover. Use the FR-3 for the Sun Tour freewheels with four notches.
- Made in the USA and covered by Park's legendary limited lifetime warranty.
Related products
Park Tool FRW-1 Freewheel Remover Wrench
£59.99 Inc VAT
Quick view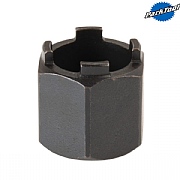 Park Tool FR-3 Freewheel Remover - Suntour 4 Peg
£16.99 Inc VAT
Quick view
Product Reviews (7)
Overall Product Rating 4.9 / 5
Easily removed an old suntour cassette
12 May 2020
I recommend this product
Easily removed an old suntour cassette.

11 Sep 2019
I recommend this product
The tool was perfect for the job. Good quality material.
22 Oct 2017
I recommend this product
Downright perfect. If you are, like me, a vintage bike owner and you have a Suntour Freewheel you need this!
Very Useful
12 Feb 2013
I recommend this product
an essential and very useful tool  for all those who have Suntour freewheels, and with a little adaptation, other brands also like (in my case) shimano and regina freewheel
Does Exactly What You Need It To!
10 Dec 2011
I recommend this product
Excellent tool, followed their instructions precisely to ensure not damaging freewheel and despite the fact it hadn't been off in 30 years came off with a bit of force.
Great addition to your tool box.
Essential Tool
18 Oct 2011
I recommend this product
An essential well made tool for removing a Suntour freewheel.

Following the instructions I tightened the skewer and nut just enough to hold the tool in place, but leaving a very small amount of free play to allow the freewheel to loosen. I then used a 1inch A/F socket with a T bar and slid a piece of SS tubing over to bar to give extra leverage. I held the wheel vertically with one hand and pushed down on the bar with the other.

In spite of being on the bike since about 1983, the freewheel was easily loosened without damaging any component or tool.
Great Bit O Fkit
18 Jul 2011
I recommend this product
Excellent tool however you must ensure that you apply quite a bit of pressure downwards to not damage the hub.
Does This Fit Shimano Hub
07 Jan 2015
I have 2013 salsa spearfish 2. I want to change the bearings inside the hub but it will not just pull off like newer hubs. There are 2 little notches opposite each other which is think a tool locates?
Hi,

This tool is designed to remove old style screw on freewheels that were used before cassettes. The notches you are referring too sound like they are just the flats on the cones where a cone spanner fits to unscrew the cones. You'll need to measure the distance between the two flats as there are a number of different sized cone spanners available depending on the hub.

Thanks.