Rohloff 2 Stage Oil Change Fluids Only for Rohloff Speedhub 500/14 - 8411
Manufacturer :
SJS Cycles part number :
Manufacturer part number :
Related products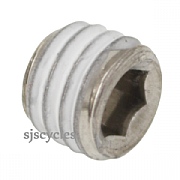 Rohloff Screw in Drainplug for Speedhub 500/14 - 8205
£2.49 Inc VAT
Quick view
Product Reviews (14)
Overall Product Rating 3.9 / 5
Convenient oil change materials
06 Jun 2019
I recommend this product
Really handy packaging for a quick oil change.
Small cost compared to cost of hub!
Complete with new grub screw with sealant applied.
Does the job
02 Sep 2018
I recommend this product
People complaining about the price of this are missing the point. The main costs are in packaging and delivering the product, I don't suppose the oil is a big deal. If you don't like the cost Rohloff do a pack with much larger amounts of the two oils and it will be cheaper of you use it for several years.
Hub oil
02 May 2018
I recommend this product
Pros
Does what it says on the bottle
As others have already said, ludicrously overpriced, but necessary if you don't wish to invalidate your warranty on a costly repair/replacement.
Gross Overprice
26 Mar 2018
Cons
Rivals Channel No 5 in cost to the user. Less fragrant.
Pros
Oily and smells of gear oil - some sulphur compound I think.
The price of Rolloff oil is a severe temptation to substitute motorbike gearbox oil. I am assured, however, that the lifestyle of the typical Rohloff employee is commensurate with the quality of the hub. Enthroned in vibratory armchairs they survey the world in cosset and comfort. For the last 7 years I have bought their oil but there may well come a day...
Necessary oil change
08 Feb 2018
I recommend this product
Annual rip-off for a sqirt of oil. Invalidate warranty or pay up! I'm not suggesting SJS are the rip off artists necessarily, it's a Rolloff thing I'm sure.
How about including a handy grub screw coated in thread sealant?
keeps it running
25 Jan 2018
I recommend this product
got to have it
Rohloff Oil
08 Apr 2017
I recommend this product
Cons
You would be foolish to use anything else in view of the implications for the guarantee.
Pros
Needed annually or every 5000km
This is the recommended two stage oil for changing the oil in a Rohloff hub
Worth Doing Annually
22 Mar 2015
I recommend this product
Cons
Better value to buy the larger size
Having just done our annual oil change the gears are running noticeably smoother, even though we had only done 3500km this year on our tandem. Moral: even if you haven't done 6000km during the year it is still worth doing the oil change.
It is now possible to buy this oil from SJS in larger bottles which seems better value, as long as you haven't discarded the small bottles which are handy for measuring out the correct dose before you start each oil change..
Mr
21 Aug 2012
I recommend this product
Cons
price high for volume of oil
Pros
whats needed, well packed
Convenient and delivered on the next day. I would like a second tube with no screw on both ends to connect the bottle
tops to the syringe. The full oil change kit is better as it provides a spare
plug.
Oil Change Fluids - Rohloff Speedhub
05 Jun 2012
I recommend this product
Pros
Convenient packaging, essential oil
I bought this because my speedhub was due for an oil change and using anything but the Rohloff oil invalidates the warranty. The oil is conveniently packaged but costs an absolute fortune when you consider the volumes involved!
The oil arrived very quickly after the order was placed.
Rohloff Oil Change Fluids
26 Apr 2012
I recommend this product
Really handy pack for easy oil changing
Oil Change Fluids
08 Feb 2012
I couldn't extract enough to fill up to the 25ml mark on my pipette: 2 to 3mls more would be better.
Rohloff Oil Change
27 Oct 2011
I recommend this product
Convenient bottles of oil and flushing thinner, arrived next day by post but what a price for such a small amount of oil! I have now done four oil changes so have four sets of plastic bottles.
How about doing a refil service at a discount price?
2 Stage Oil Change Fluids - Rohloff Speedhub
17 Oct 2010
I recommend this product
Cons
not good for first oil change unless you have good kit.
Pros
does what it says on the err... bottle
I bought this kit because I already have the more comprehensive kit that comes supplied with syringe, sealing plug and allen key.
If you haven't changed the oil in your speedhub yet - don't buy this, buy the part number (SJS) 12171, it will be so much easier.
Apart from that - this oil seems to do the job, and my speedhub still goes strong approaching 5th oil change.
Can it be used to clean and oil Sturmey Archer AW3 HUB ? Thans
16 Jul 2018
No this is not suitable for any other hub that the Rohloff hub.

Thanks