Shimano TL-PD40 SPD Clipless Pedal Axle Removal Tool
Manufacturer :
SJS Cycles part number :
Manufacturer part number :
Details
Grey splined tool to remove axle from SPD pedals. Removes locking collar from Shimano SPD pedals
Plastic construction ensures that you cannot damage or over-tighten spindle locknut
Related products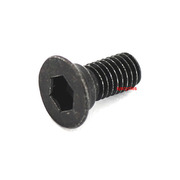 Shimano XTR PD-M9020 Cleat Fixing Bolt - Y41704030
£0.99 Inc VAT
Quick view
Product Reviews (7)
Overall Product Rating 4.7 / 5
18 Mar 2021
I recommend this product
Simple tool.. But very essential...
01 Dec 2016
I recommend this product
The right tool for the job. Makes removing the axles for service easy. Good price and fast shipping once again from sjs cycles.
Simple Tool That Works Very Well
19 Aug 2016
I recommend this product
It arrived quickly after odering, well done. As a tool it works simply and efficiently.
Simple Tool That Works
31 May 2016
I recommend this product
Cons
common sense care needed as it is plastic
Arrived very quickly. Seems to work fine. No more damaging the plastic bolt trying to get the pedal axle out.
A Necessasry Tool For Shimano Pedal Service
04 Jun 2012
I recommend this product
Cons
This tool should be included with the pedals
Pros
Easy to disassable the pedal
Although it is possible to disassable a Shimano pedal without this tool, this plastic nut makes the job much easier and does not damage the plastic bolt on the pedal.
Looking For Hassle Free Pedal Servicing?
15 Jan 2012
Pros
Damage free servicing.
A must for anyone wanting to service Shimano pedals. Saves damaging your expensive parts.
A Necessary Widget For Servicing Your Pedals
30 Mar 2011
I recommend this product
Cons
Ideally you need a vice too
Pros
Does what it is intended to do
I wanted to service my Shimano SPD pedals. This tool allows you to remove the axle to clean and regrease to ensure the pedals continue to run smoothly. But you will definitely need a vice to keep the pedal still enough to turn the tool on the axle to release it. Park Tools and others do special units to sit the pedal in while in a vice to protect it, but I just took care! The tool does the job.
Can you tell me the spanner size I need to the pd40 please? damage the removal tool. Thanks
24 Nov 2020
The PD-40 is designed to be locked into a vice, not for use with a spanner.

JK 25.11.20
Exustar pedals?
03 May 2020
Will this remove the cartridge of an Exustar pedal as well?
Hi, there is a fair chance it will fit Exustar pedals with a locking collar like the Exustar EPR100PP. However I can't confirm as we don't have a set of pedals to try. Thanks
Shimano Tl-Pd40 Pedal Axle Tool
By
GARRY JENKINSON THORNE
07 Dec 2016
CAN YOU PLEASE TELL ME IF THIS TOOL WILL WORK ON EXUSTAR PEDALS, AS I CAN'T FIND A TOOL THAT EXUSTAR USED TO DO. CHEERS.
Hi,

This tool can indeed be used on Exustar pedals as well.

Thanks.