BOB IBEX 28 PLUS for 26 Inch - 700C Wheel with Suspension & Yak Sak CTS109
Manufacturer :
SJS Cycles part number :
Manufacturer part number :
Details
Adjustable suspension system. Chromoly construction for strength and durability. Quick release rear wheel, with alloy rim & hub, stainless steel spokes, and cartridge. The IBEX features an adjustable suspension system providing a minimum of 3" of trailer wheel travel, dramatically extending the possibilities for off-road adventures.

Compatible with most full-suspension bicycles and most bicycles that have solid-axle hubs.

Attaches quickly and easily to a bicycle's rear wheel using the BOB Quick Release or BOB Nutz system.

Three inches of adjustable suspension improves on- and off-road handling.
Low center of gravity keeps the weight off your bicycle frame for improved handling and performance.
Trailer tracks rear wheel of bicycle, making it easier to navigate narrow roads or single track.
Constructed of 4130 chromoly steel tubing that's lightweight and long-lasting.
70 lbs. carrying capacity so you don't have to leave anything behind.
Ibex 28 – for 28" wheels, 29er mountain bikes and 700c road bikes with full wrap fenders.
Ibex Plus – comes with a BOB Dry Sak.

The wait is over: BOB Trailers are now compatible with 12mm thru-axles & fat bikes! Our friends at the Robert Axle Project have created some great gear add-ons to ensure BOB Trailers work with your bike of choice. We've tested each compatible axle to our stringent BOB standards, and we are confident endorsing these products for use with our Trailers.

Frame: 4130 Chromoly.
Hub: Aluminum, cartridge bearings, Quick Release.
Rim: Aluminum, 28 hole.
Spokes: Stainless Steel.
Tire: 16 x 2.125"
Cargo area: Roughly 25" x 16" x 18" (64cm x 41cm x 46cm).
Weight: 7.7 kgs, 17 lbs
Capacity: 32 kgs, 70 lbs

Includes: Quick Release attach system, spare attach pin, Spider bungee, 2 piece safety flag, fender, reflectors, detailed owner's manual, Dry Sak
Related products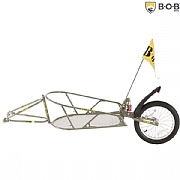 BOB IBEX 28 for 26 Inch - 700C Wheel with Suspension - No Sac CTS111
£620 Inc VAT
Quick view
Product Reviews (1)
Overall Product Rating 5 / 5
Long overdue review
19 May 2019
I recommend this product
Cons
The Burley Coho... it's a tight competition!
Bought this from these folks about a year ago. It's luverly! Fits on my Surly Straggler and Pug Ops with no dramas. Well built, suitable back end bolts for FOUR oversized bottles and there is even a rack that works for added panniers (Greenspeed rack). Big enough to haul a 20kg suitcase generator too! My only quibble is that it now has stiff completion from the Burley Coho (which I now want too ??). Single wheel with suspension is the way ahead for off road tracking and to maintain traction.
Can I confirm that this will fit 700c wheels with mudguards?
28 Mar 2019
The title states 26" wheels but the spec below states 28" or 700c with full mudguards.
Thanks,
Anne
Hi there,

Yes, this will fit 700c wheels,

Thanks.
bob trailer
05 Dec 2018
hi ,over cost of purchasing and delivering a bob ibex trailer , to ashford post office australia new south wales 2361
Hi there,

As of when this question was answered, the postage cost to Australia is £135.00.

We cannot deliver to a PO box address and a signature will be required.

Thanks.
06/12/18
Are these in stock?
25 Nov 2018
Hi,
I live in Thailand but I am visiting UK for xmas. If these are in stock I will order now.
Cheers
Ben
These are currently due back into stock on 06/12/18

Thanks - 26/11/18
Will this fit a Thorn Nomad with A Rohloff hub?
30 Jan 2018
I have a Thorn Nomad that I bought from you a few years ago. I'm after a trailer. Would the Ibex fit ok? Wouk did I have to change the quick release?
Cheers
Hi there,

Yes this will fit no problem.

Thanks
Can This Trailer Be Attached To A Mountain Bike With 27.5 Inch Wheels?
10 Jun 2017
Hi,

This trailer is fine for use with a MTB with 27.5 Inch wheels, however if your bike uses a bolt through axle you may need to fit one of the Robert Axle Project through axles to allow the trailer to fit to the axle.

Thanks.
Hi, Can I Fit Bob Ibex With A Brompton? Thanks.
17 Nov 2016
Hi,

It is possible using the solid Sturmey thread nuts that Bob produce, but as we have never tested one of these trailers with a Brompton we don't know how much the smaller wheels will affect the handling of the trailer.

Thanks.
Does The Standard Ibex Fit 26
10 Oct 2016
Hi,

The standard Ibex is suitable for use with 26" wheeled bikes.

Thanks.
Hi..
03 Oct 2015
Hi.. Is it possible to fit this trailer to a bike that does not have a quick release axle... I have a nutted axle..?? Many Thanks
Hi,

It is possible to fit this trailer to a bike with a solid nutted axle but it requires a separate set of "Bob Yak Solid Axle Nutz" these can be found on our website and are SJSC part number 1075

Thanks.