BOB YAK 28 PLUS Trailer for 26 / 28 Inch Wheels - with QR & Yak Sak - Black
Manufacturer :
SJS Cycles part number :
Manufacturer part number :
Details
Simply the best touring trailer we have ever used.
Dimensions: 25 inch (L) x 16 inch (W) x 18 inch (H) - QR wheel size 16 x 1.75 (305) - Schrader valve, spare spokes are 132mm.
Supplied with replacement skewer and flag.
Weight: 5.6kg
Max Load: 32kg
Fits 26 inch / 700c / 27inch wheel cycles.
See Yak spares item #2006 for additional waterproof sack.
The price includes a waterproof yellow sak.
Related products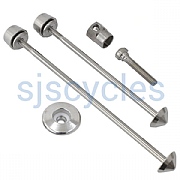 Pitlock Set 03 GA Anti Theft Wheels & Ahead Skewers - Silver
£49.99 Inc VAT
Quick view
Product Reviews (3)
Overall Product Rating 4.7 / 5
Great Trailer
16 Aug 2016
BOB YAK 28 PLUS Trailer for 26 / 28 Inch Wheels - with QR & Yak Sak - Black
I recommend this product
SJS were really quick at sending out the Ibex after I ordered the Yak mistake. Though not recommended for it I am adapting the trailer to carry my dog, thus far working really well, he seems comfortable enough. The trailer is easy to assemble, easy to hook up and trails the bike well.
Bob Yak Trailer.
17 Jul 2011
BOB YAK 28 PLUS Trailer for 26 / 28 Inch Wheels - with QR & Yak Sak - Black
I recommend this product
Cons
Can be a problem fitting it to a wider than norm bike
Pros
Tracks well, handles brill
Managed to get the trailer fitted to my Thorn Nomad MK2 after a struggle. It was difficult fitting the trailer fork onto the quick release skewer due to the Rohloff hub and expo rack, it was too wide! Had to use a number of washers on the quick release to widen the bobins (even after they had been reversed!)
Once fitted the trailer is great, handles well on single ruff cycle paths and tracks the bike really well. Problem trying to get the bike and trailer through those silly cycle gates!
Great product and a recommended buy.
beast trailer
07 Feb 2007
BOB YAK 28 PLUS Trailer for 26 / 28 Inch Wheels - with QR & Yak Sak - Black
Handles just brilliantly - better when fully loaded. Good quality, the best way to carry big loads - I use mine for camping and Ive got the weekly shop in before now...
The boost spacing on my Specialized Enduro with a 12x148 axle?
10 May 2019
You just need to use - SJS Cycles part number : 44420

Thanks - 13/05/19
Extra wide skewer
29 Jun 2018
Further to Tim's question about his rear panier mount and your suggestion to fit and pack an extra wide skewer, how do the arms on the Bob trailer expand to accommodate the extra width? How much would it cost to supply one of the extra wide skewers to Cornwall so that I can check that I can fit it properly before purchasing the trailer.
The BOB trailer will cope no problem with a slightly wider mounting point. The skewers can be found here - https://www.sjscycles.co.uk/search/?term=bob%20yak%20skewer
Thanks
I have two bikes a Brompton and a 29er, will it fit and do I need two different forks?
13 Feb 2018
Hi there,

This trailer is not suitable for a Brompton bicycle. The smallest wheel size is 26".

Thanks
Do you have any of the BOB'S with the yellow sack?
20 Jul 2017
Hi, the Yak Sak is included with this BOB trailer. Kind Regards
Drop Out Width
10 May 2017
I am looking for a trailer that will fit on my 2016 Marin Pine mountain 1. The dropouts are 135mm inner and 145mm outer measurement . Would a Bob Trailer fit on this?
Hello,

Yes a BOB trailer will fit your bike. The instruction document attached has further information should you need it.
Hi, Would This Fit A Thorn Rst With A Rohloff Hub?
16 Jan 2017
Hi,

There isn't any reason as to why you would not be able to fit this to your Thorn RST.

Thanks.
I Need The 160Mm Skewer To Fit My Bike, Not The Standard One, Is This Available?
04 Sep 2016
.
Hi,

Although not available to order with the trailer, the longer skewers are available to order separately. We stock these and they are SJSC part number 1074.

Thanks.
We Have A Thorn Raven Twin Rohlof Tandem With Sjs Fitted
07 Jun 2015
rear pannier rack. Is there any problem fitting a BOB Yak trailer, with the clearance between the lower pannier mount on the rear dropout and the trailer hook attachments to the BOB QR skewer bobbins?
Hi,

With the standard skewer supplied with the BOB Yak trailer there is a clearance issue yes, the point for attachment on the skewer site directly below the pannier bolt preventing the trailer from being fitted. There is a solution though and this is to buy separately the longer version of the quick release skewer and fit some sort of spacer between the frame and quick release. This allows the rear wheel to still be in tight but moves the BOB fitting points further away from the frame out of the way of the rack fittings.

Thanks.
Bob Yak Trailer Info
04 Sep 2014
does the trailer come with one QR skewer or 2? is it worth the extra money over the similar looking mwave trailer, in terms of build quality etc? I am looking for a trailer to use with thorn childback tandem for touring 26in wheels, and with my single bike 700c wheels for weekly shopping etc. thanks
Hi,

The Bok Yak trailers only come with a single skewer but they are available separately if you did require another. The Bok Yak trailers are by far the best quality trailers available, but the price does reflect this.

Thanks.