S and S Machine Backpack Case - Black
Manufacturer :
SJS Cycles part number :
Manufacturer part number :
Details
This case provides maximum versatility, and is the case to choose if you are travelling to a destination where storage or transportation of a hard shell case is a problem. With the bike inside, it can be carried by the handle as normal luggage or as a backpack. When the bike is removed the case transforms into a regular size backpack that can be worn or easily carried on your rack. The case is made from 1000 denier black Cordura and has four plastic perimeter panels that snap together to protect the 10" edge of the case. It also features four storage pockets that are 13" x 26" each. Two of these pockets are located side by side on each face of the case. When filled with clothing they form cushions that offer added protection for your bicycle as well as valuable storage space. The backpack straps unhook at the bottom and tuck into the pockets when not in use. The case with a bicycle inside measures 26" x 26" x 10" which meets the typical airline standard maximum size limit of 62" combined (length + width + thickness). When the bicycle is removed the case can be made smaller, by any amount, by pulling the 6 side straps tighter until it gets as small as 26" tall x 10" wide x 3" thick.

Weight: 8 lb
Dimensions: 26 x 26 x 10 inches (66 x 66 x 25.4 cm)
Related products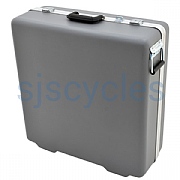 S and S Machine 10" Edge Pull Hard Bike Case - Grey
£599.99 Inc VAT
Quick view
Product Reviews (2)
Overall Product Rating 4 / 5
Thorn forks don't fit?
08 Aug 2019
I recommend this product
Cons
Thorn RST forks need to be removed.
Pros
Can be folded up at destination and carried with a loaded touring cycle
I have used this for my Raven Tour Sport and find it a good compromise as Kenneth's review said. However, packaging does not work as indicated by S and S because the steerer of the full length Thorn 26 inch fork is too long and the forks need to be taken out and placed diagonally. This is very tight even on a 26 frame and I place the forks in a 2nd bag but if you are planning on using just one bag then this will require some very careful and intricate packing and probably removal of the brakes if you have cantilevers.
Other than that a fine case. I have used it on two trips so far and no problem at check in. It is a bit expensive but the best I could find.
BTW, it is perfect also for traveling with unicycles.
Travelling?
28 Apr 2013
I recommend this product
Pros
The best compromise for S&S frames
Have used this case for several years. Easy to use, easy to pack away when not in use and gives enough with protection. But put some padding around the frame tubes and other stuff you put inside the case.And dont forget to use the pockets on the outside for clothes, to get extra padding.

Its also quite light compared to the S&S hard case, which is good when you want to be able to fly without having to pay for overweight
The only complain I have is that the buckles are a bit fragile. The beating the case gets when flying destroys the buckles so you have to buy new buckles (of better quality) and then get some help to change
them.
The Cordura material its made of is though, takes the beating without any problems.
What's the smallest size this can be packed / folded down to?
08 Aug 2018
When not in use, how small can this be folded down to? Does it bend in all directions or are there hard reinforcements?
When the bicycle is removed the case can be made smaller, by any amount, by pulling the 6 side straps tighter until it gets as small as 26
Can I use this with the largest Nomad MK2 bike?
08 Jun 2018
I have the 620L Nomad MK2 S&S bike wiith Schwarzenegger's marathon 2.25" tires and I am wondering if this size bike will fit the case.
Hi,
For any information or advice on any of Thorns bikes, frames or forks please contact out dedicated Thorn bikes sales team either on 01278 441505 or at
[email protected]
and they'll be able to provide you with all of the information you need.
Thanks.
Case Size
09 Feb 2014
Hi

Does a 700cc wheel fit in the case? With tyre or without?

Thanks
Hi,

A 700c wheel should definitely be able to fit in without the tyre, whether or not it would fit with a tyre on is hard to say, a low profile small tyre then maybe but a larger tyre seems unlikely.

Thanks.