S and S Machine 10" Edge Pull Hard Bike Case - Grey
Manufacturer :
SJS Cycles part number :
Manufacturer part number :
Details
A top quality case, perfect for transporting most "naked" S+S coupled bikes.

PLEASE NOTE It can be very difficult and sometimes impossible, to fit the mudguards and carriers, from a fully equipped touring bike, into the case. Some forks may also require the steerers to be shortened & some Thorn models such as the Nomad can not be made to fit.

This case offers the safest means of transporting your bike, especially if you're flying and you may therefore decide, if you have sufficient baggage allowance, that the time taken to disassemble and re assemble your bike sufficiently, to fit into this case, is worthwhile.

Dimensions: 26 x 26 x 10 inches (66 x 66 x 25.4 cm)

Weight: 7.61Kg (16.74lb)
Related products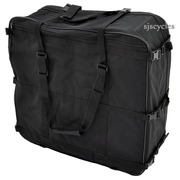 S and S Machine Backpack Case - Black
£349.99 Inc VAT
Quick view
Be the first to write a review
Feel free to leave a review of this product, good or bad it helps other customers with their buying decision.
Does it come with anti-compression members
16 Jun 2021
Hi
Does the bag come with anti-compression members or net or just the bag itself without anything in the inside
Thank you
Thank you for your enquiry, it is just the case
650B wheels
27 May 2021
Just wondering if you know / think 650b x 50mm would fit without removing the tyre? Had thought to go tubeless so would be quite a mess if I had to remove the tyres, not to mention a bit of a faff the other end! Thanks as ever
Hard to say as different tyres have different inflation profiles. You could just deflate them to pack- but I suggest bagging the wheels to prevent sealant leaking!

JK 28.05.21
Hi, do you or are you able to order the newer 4 wheel black version of this case please ? thanks
13 May 2019
Hi, do you or are you able to order the newer 4 wheel black version of this case please ? thanks
Hi, yes we can order this for you. Please contact
[email protected]
for more information on special orders. Thanks 15/05/2019
Can you explain why this will not fit the Nomad MK 2
25 Nov 2017
It is ironic that the bike you promote with S&S couplers, and the bike I bought from you with the intention of being able to pack into a smallish case, you now say cannot be packed into this case. Can you please explain why? My fork/steerer combination is exactly 30" long (the hypotenuse of the case should be 36") so that should fit, even if laid flat. What stops the Nomad fitting?
Hi Robert,

For the purpose of the website I will simply copy the information from the Thorn Nomad description and I have emailed to discuss your bike in particular as each build is different.

Sizes up to 565L can, with extensive disassembly,
even be fitted into a 26" x 26"x 10" case - providing the steerer of the steel fork isn't longer than 235mm.

Thanks.
Will My Bike Fit?
20 Nov 2016
I have a std 57cm Bob Jackson road bike, 700c wheels. If I get BJ's to split the frame with S&S couplings, will the bike fit in this box? Or perhaps, why won't it fit in this box?
Hi,

This box was designed with S+S' own bikes in mind, it is highly possible that your bike will fit but without testing we unfortunately have no way of knowing for definite.

Thanks.
Do 26Inch Wheels Also Fit Into This Box?
06 Nov 2016
with / without the tubes connected?
Hi,

A set of 26" wheels will be able to fit into this box, you should be able to leave the tyres fitted but you'll most likely need to deflate them to fit them in.

Thanks.