Schwalbe Marathon Plus HS440 Tyre with Reflex - 26 x 1.75, 47-559
Manufacturer :
SJS Cycles part number :
Manufacturer part number :
Details
The flat-less tyre. Schwalbe's best selling model. The most puncture resistant pneumatic tyre there is. In addition to the superior puncture protection it features many hidden values:

- Rolling Resistance: The patented, 5mm thick SmartGuard layer, when compared to all generic products, has a significant advantage in rolling resistance.
- Recycling: Also in the SmartGuard, Schwalbe use a proportion of recycled rubber from old latex products.
- Anti-Aging Side Wall: It now lasts much longer before developing unsightly cracks when subjected to use with too low air pressure.
- E-Bike Ready: Due to its great properites Marathon Plus is an ideal choice for E-bikes (E-25). The main sizes are approved and tested for E-bikes up to 50km/h.

Note: It is impossible to guarantee that a flat will never happen, but the Marathon Plus has the best defense against everyday tyre wreckers such as glass, flints or metal shards. Use a pressure gauge to adjust tyre pressures as the common 'thumb check' is insufficient due to the special construction of the Marathon Plus.

- Size: ETRTO 47-559 (26 x 1.75 Inch)
- Type: Wired
- Compound: Endurance
- Execution: SmartGuard
- Colour: Black / Reflex
- Skin: Twin
- Weight: 995g (35oz)
- Pressure: 3.00 - 5.00 Bar (45 - 70 psi)
- Maximum Load: 109kg
- EPI: 67
- ECE: E-50
- Profile: HS440
- Tube: 12, 13, 14, 14A

Ratings:
- Rolling: 3.5 / 6
- Road Grip: 4 / 6
- Off-Road Grip: 2 / 6
- Protection: 7 / 6
- Service Life: 6 / 6

E-50 - Suitable for E-Bike: For fast e-bikes up to 50 km/h (S pedelecs with approval, insurance and pedal assistance also over 25 km/h) a special tyre is necessary. We recommend E-Bike tires with ECE-R75 approval valid throughout Europe for these bikes.
Related products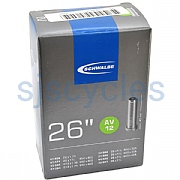 Schwalbe AV12 Schrader Tube - 650c/26" Tyres - 47-559 47-571 35-584 to 44-584 32-590 to 44-590 & 32-597
Now from

£4.99

Inc VAT
Typical RRP: £7.99
Quick view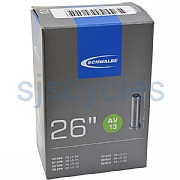 Schwalbe AV13 Schrader Tube - 26" Tyres - 40-559 to 62-559
Now from

£4.99

Inc VAT
Typical RRP: £7.99
Quick view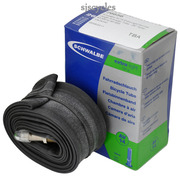 Schwalbe AV14 XLight Schrader Tube - 26" Tyres - 40-559 to 60-559
Now from

£6.99

Inc VAT
Typical RRP: £9.49
Quick view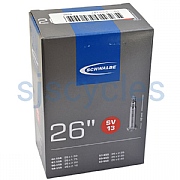 Schwalbe SV13 Presta Tube - 26" Tyres - 40-559 to 62-559
Now from

£3.99

Inc VAT
Typical RRP: £7.99
Quick view
Product Reviews (2)
Overall Product Rating 5 / 5
20 Oct 2021
I recommend this product
Cons
Tight fit on rim bead.
Pros
Look good, puncture protection, long life
Excellent tyre
Excellent tyres
05 Jan 2021
I recommend this product
The Schwalbe Marathon Plus lives up to it's notorious reputation as a good all round solid tyre and gives extra confidence on the road during these cold, wet and slippery times. They have been an excellent addition to my 90's MTB
Tyre info
08 Sep 2020
Hello, just brought a Dawes tandem and it has 26 X 1.75" tyres on it. The make is TIOG. I am finding them quite noisey and would like to replace them with a reputable and quiter make. What does the 1.75 figure mean and what tyres would you recommend for two up touring. Many thanks
When measuring tyres we only use the ETRTO code to confirm tyre and rim compatibility. Please look at the sidewall of your tyre for a two digit followed by a dash, followed by a three digit code: 00-000. Once you have this code we can properly assist with finding a suitable tyre with a tred profile more inline with what you are looking for.