Schwalbe Marathon Plus HS440 Tyre with Reflex - 700 x 28, 28-622
Manufacturer :
SJS Cycles part number :
Manufacturer part number :
Details
The flat-less tyre. Schwalbe's best selling model. The most puncture resistant pneumatic tyre there is. In addition to the superior puncture protection it features many hidden values:

Rolling resistance - The patented, 5mm thick SmartGuard layer, when compared to all generic products, has a significant advantage in rolling resistance.

Recycling - Also in the SmartGuard, Schwable use a proportion of recycled rubber from old latex products.

Anti-Aging Side Wall - It now lasts much longer before developing unsightly cracks when subjected to use with too low air pressure.

E-Bike Ready - Due to its great properties Marathon Plus is an ideal choice for E-Bikes (E-25). The main sizes are approved and tested for E-Bikes up to 50km/h.

Note: It is impossible to guarantee that a flat will never happen, but the Marathon Plus has the best defense against everyday tyre wreckers such as glass, flints or metal shards. Use a pressure gauge to adjust tyre pressures as the common 'thumb check' is insufficient due to the special construction of the Marathon Plus.

- Size: ETRTO 28-622 (28 x 1.10 Inch / 700 x 28C)
- Type: Wired
- Compound: Endurance
- Execution: SmartGuard
- Colour: Black / Reflex
- Skin: Twin
- Weight: 750g (26oz)
- Pressure: 5.50 - 7.50 Bar (80 - 110psi)
- Maximum Load: 85kg
- EPI: 67
- ECE: E-25
- Profil: HS440
- Tube: 15, 16, 17, 18

Ratings:
- Rolling: 3.5 / 6
- Road Grip: 4 / 6
- Off-Road Grip: 2 / 6
- Protection: 7 / 6
- Service Life: 6 / 6

E-25 - Suitable for E-Bike: Tires with the recommendation E-25 are the perfect choice for all pedelecs with a pedal assist up to 25km/h. The most important criterion for this recommendation: safety.
Related products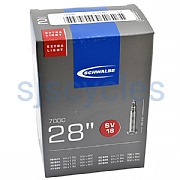 Schwalbe SV18 XLight Presta Tube - 28" Tyres - 28-622 to 44-622
Now from

£5.99

Inc VAT
Typical RRP: £9.49
Quick view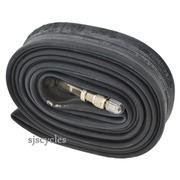 Schwalbe DV16 Woods Tube - 28/27" Tyres - 28-622 to 32-622 & 28-630 to 32-630
Now from

£3.99

Inc VAT
Typical RRP: £7.99
Quick view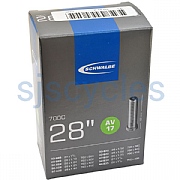 Schwalbe AV17 Schrader Tube - 700c/27"/28" Tyres - 40-609 28-622 to 47-622 32-630 & 40-635
Now from

£4.99

Inc VAT
Typical RRP: £7.99
Quick view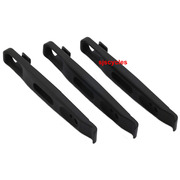 SJSC Steel Core Tyre Lever - Set of 3
£2.99 Inc VAT
Quick view
Product Reviews (3)
Overall Product Rating 5 / 5
Bomb proof!
27 Mar 2023
I recommend this product
Pros
Durable. Grippy. Puncture proof.
I have a single speed that I use these on. 28mm is as wide as I can go with mudguards. The previous tyres were not great quality but lighter, these were heavier on paper but when riding felt no difference & change in my average speed. Bonus was that I now had a tyre that could smash through most of the bad road surfaces. Biggest plus point is the puncture protection. I needed this to be as good as possible with having this on a single speed with nuts to hold the wheel in rather than quick release, any puncture would be a very slow and inconvenient. I have done some decent miles and noticed the rear tyre flattening off on the tread a bit so bought a new tyre ready to change it over. It was about time at 4200 miles of riding. That evening the old tyre slowly went down. Decided that's enough for one tyre & let's change it and not end up out on a ride with a flat. Found a knitting needle size hole in the tyre & could see the blue liner visible. The tyre had never punctured on a ride.
Great long distance or commuting tyre
22 Feb 2023
I recommend this product
Cons
Heavy, difficult to mount on rim
Pros
Nice ride, puncture resistant , easily seen from the sides in poor light
These tyres are extremely durable, the puncture resist layer is substantial. They ride well, and do cushion road vibrations well. The High visibility reflective side stripe is a nice safety touch.
The downside of the puncture resistance is they are not the easiest tyres to mount on a rim, but at least you will not have to remove them very often. They are a fraction slower than other tyres, but they don't suffer punctures and last for miles, perfect for touring,
The only tyre I would seriously consider for long distance touring.
20 Jun 2020
I recommend this product
Cons
Small weight increase but negligible if touring.
Pros
"Flat proof", good tread.
My bike will be heavily laden on tour. I don't want flats, I want the comfort of a decent width combined with good rolling ability. The Marathon Plus is the only tyre I know that meets these criteria.
What is "with reflex" mean?
23 Aug 2023
Reflex refers to the reflective strip on the sidewall. SK 23/08/23
Flatless tyres
25 Sep 2021
Hi - I'm looking to purchase some flat-less tyres and have been recommended to use Schwalbe Marathon size 700x28 (28x622). Having never purchased these types of tyres before - do they need a tube as well and if so what would you recommend?
Tubes are needed with this tyre- please see the bottom of the page at related products for tubes to suit depending on valve type required.

JK 27.09.21