Continental Ultra Gatorskin Tyre - 27 x 1 1/4, 32-630
Manufacturer :
SJS Cycles part number :
Manufacturer part number :
Details
High performance fast riding tyre with excellent puncture resistance. 170 TPI casing with Duraskin mesh layer side wall protection. Slick tread with low rolling resistance results in a quick ride.
- Max 102psi
- Weight 330g
Related products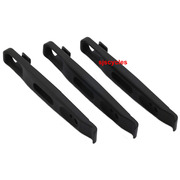 SJSC Steel Core Tyre Lever - Set of 3
£2.99 Inc VAT
Quick view
Product Reviews (7)
Overall Product Rating 5 / 5
Continental Gatorskin Tyre
07 Feb 2023
I recommend this product
Cons
May not be best in icy conditions.
Pros
Well made, good value, easy to fit, good in wet or dry.
27x11/4 good quality tyres are quite hard to find. Good grip in wet or dry conditions although I did come unstuck on ice.
Should be good for several years of moderate use. Would recommend this product.
good product
03 Dec 2019
I recommend this product
Cons
can initially be slippery in wet weather
Wanting only the best for my bike I installed two of these about half a year ago, assuming the premium price compared to others on this website as an indicator of quality.
In the beginning I experienced some slipperiness in wet conditions, something I wasn't used to, which was quite scary, and forced me to be more mindful in taking sharp turns.
Over time however, I believe the tires have worn in and in dry weather they feel absolutely solid and powerful.
Hard to find
26 Sep 2018
I recommend this product
These tyres are well-known enough to not need me to review them, so I'll restrict myself to saying they're very hard to find in 27 x 1 1/4 size and they make great summer tyres for my old touring bike. Good price too.
Bargain (For 27 Inch Size) Quality Tyres
29 Oct 2012
I recommend this product
Pros
Bargain, cheap, good quality
Really cheap, good quality and easy to fit. I bought 6!
Amazing Price
06 Oct 2012
I recommend this product
Great tyres, unbelievable value.
Continental Ultra Gaitorskin Tyre 27X1 1/4
11 Jan 2011
I recommend this product
Superb quality tyre. Rolls along beautifully making riding a pleasure. Good grip in both wet and dry conditions. If you can justify the expense, the tyre is well worth the outlay.
Chris B
29 Jun 2006
Very fast tyre for this size, good grip on dry roads (not used them in the wetyet)and very comfortable.
I have the following question:
03 May 2020
I have old wheels which need new tyres - I have been using 28-630 (27 x 1 1/4) tyres until now - will this tyre fit the same wheel? 32-630 is virtually the same correct? Also, are the tyres foldable? Thanks in advance
Hi, the important measurement is 630, so they will fit your rims. The 32 is the tube diameter so look for frame clearance. They are foldable with care, it is easy to kink the bead wire. Thanks
Can I fit this tyre to non-hooked rims?
17 Sep 2019
Hi there,

Unfortunately, as we have never tried this we cannot be certain im afraid.

Thanks.
What depth is a Gator skin 660 32?
16 Dec 2017
I am renovating old Higgins tandem. It did have Raleigh 27x1.25 on Weinman 27x1.25 rims and I thought I would upgrade to GatorSkins but I have discovered that they are too deep ie all the mudguard clearance has disappeared. Can you recommend a modern 27 tyre that is closer in depth to the Raleighs please? I assume the panaracer pasellas 27x1 be better but can you tell me by how much, depth wise?
Thanks, Andrew
Hi there,

I have looked at two tyres of slightly bigger that I think will still be too big. The Pasela 27x1 are out of stock until early January so I am unable to confirm until they arrive.

Thanks