Panaracer Pasela Tour Guard Tyre - 26 x 1.50 Inch 37-559
Manufacturer :
SJS Cycles part number :
Manufacturer part number :
Details
Narrower version of our favourite tyre for road based touring or where durability is required. The Pasela's chevron block tread pattern makes short work of uneven road surfaces. A Kevlar (Aramid) strip beneath the carcass increases puncture resistance whilst Panaracer's durable rubber compound re-assures the rider with plentiful grip in all weather conditions. The only tyre we know that is endorsed for Tandem use! Pasela users will regularly exceed stated max inflation pressures.
- Min 40 psi
- Max 65 psi
- Weight 460g
Related products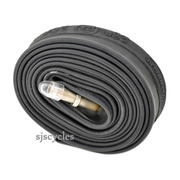 Schwalbe AV12A Schrader Tube - 26" Tyres - 25-559 to 40-559
Now from

£4.99

Inc VAT
Typical RRP: £7.99
Quick view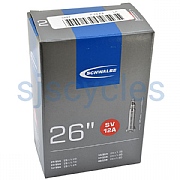 Schwalbe SV12A Presta Tube - 26" Tyres - 25-559 to 40-559
Now from

£4.99

Inc VAT
Typical RRP: £7.99
Quick view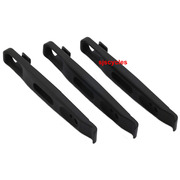 SJSC Steel Core Tyre Lever - Set of 3
£2.99 Inc VAT
Quick view
Product Reviews (3)
Overall Product Rating 4.3 / 5
21 Jul 2018
I recommend this product
As previously noted, very easy to mount. Look great too, especially with black rims. Note though that the Panaracer logo on the ones I received were blue and not yellow as pictured. Obviously has no bearing on functionality but might bug those who like everything to be spot-on aesthetically! Previously ran the PT folding version in 700c which lasted well. All in all these are pretty nice tyres and a bargain at this price as well :)
18 Jul 2018
I recommend this product
Good tyre and recommended. I understand however it's to be discontinued.
This review will therefore be short lived.
Really impressed...
21 Jun 2018
I recommend this product
I bought a 1.5" version of these tyres for a cyclo camping tour (i.e. carrying quite a lot of weight) and fitted them to my long haul trucker. I just could not trust being able to get schwably marathons on/off my Ryde Grizzy rims (tears, hurt hands etc), even with all the usual techniques - and found, in contrast, that these panaracer tyres were incredibly easy to put on/remove. They are a lot lighter than the marathons and when properly inflated (65lbs) give a fantastic balance of cushioning/absorbing the bumps and stiffness. The walls are thinner than marathons - and i doubt that they are quite as puncture resistant overall. However, I had one puncture in 400 miles - and the tyre was easy to get off and repair. I can't review longevity yet - but in terms of the overall characteristics re puncture resistance, weight, rolling feel, i'm very happy indeed with these tyres, particularly for touring with panniers.
Do you have any folding versions of this tyre? Panacer Tourguard plus 37-559
12 Mar 2022
No sorry, not in this size


Can i use your part. 12511 tyre (26x1.50) on a tandem bike?
24 Nov 2020
I am interested to fit my tandembike with these tyres. will they suit?
Kind regards

Davide - Italy
Hi, without knowing what tyre size your tandem accepts we cannot confirm this. No tyre is rated for tandem use, however, we have successfully fitted these to tandems before.

JK 25.11.20
Panaracer Pasela Tour Guard Foldable 700 37Mm
12 Jun 2014
Panaracer Pasela Tour Guard Foldable 700 37mm

hello, I am looking for that tire, maybe you have it?

thanks best regards Stefan
Hi,

Yes we stock this tyre you're looking for, it is SJSC part number 9398.

Thanks.