Schwalbe Marathon HS420 Tyre - 16 x 1.75, 47-305
Manufacturer :
SJS Cycles part number :
Manufacturer part number :
Details
The Original: The archetypal high quality touring tyre. The highly elastic GreenGuard layer is 3mm thick. One third of the GreenGuard is made up of recycled latex products. The 'Anti-Aging' sidewall can withstand the typical cracking that results from overloading due to insufficient inflation pressure for much longer.

E-Bike Ready: You can choose every Marathon for you E-Bike (E-25). The main sizes are approved and tested for E-Bikes up to 50 km/h (E-50).

- Size: ETRTO 47-305 (16 x 1.75 Inch)
- Type: Wired
- Compound: Endurance
- Execution: GreenGuard
- Colour: Black / Reflex
- Seal: Tube
- Weight: 500g
- Pressure: 3.50 - 5.00 Bar (50 - 70psi)
- Maximum Load: 70kg
- EPI: 67
- E-Bike: E-25
- Tube: 3

Ratings:
- Rolling: 4 / 6
- Road Grip: 4 / 6
- Off-Road Grip: 2.5 / 6
- Protection: 5 / 7
- Service Life: 5.5 / 6
Related products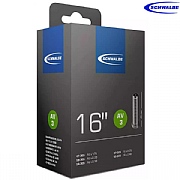 Schwalbe AV3 Schrader Tube - 16" Tyres - 47-305 to 62-305
Now from

£4.99

Inc VAT
Typical RRP: £7.99
Quick view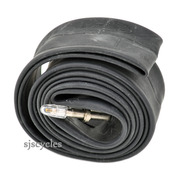 Schwalbe SV3 Presta Tube - 16" Tyres - 47-305 to 62-305
Now from

£3.99

Inc VAT
Typical RRP: £7.99
Quick view
Product Reviews (2)
Overall Product Rating 4 / 5
Beast Of A Tyre
05 Mar 2012
I recommend this product
Bought as a tyre for the front jogging wheel for my Chariot, as there was not much option for robust puncture proof tyres in this size. These are the new improved 2011 Marathons, which seem to have a much more durable sidewall than earlier versions, and the 'green guard' system rather than a kevlar belt of the earlier model. They are consiquently quite a bulky and heavy tyre, however, if they are as good as the older type then puncture resisitance and wear should be excellent (Lejog with 1 pucture on a Brompton and still loads of use left). They do look really cheap though, oddly.
Cracking Tyre For The Bob
05 Sep 2011
I recommend this product
Just back from 2 weeks in the Jura and Chartreuse using this tyre on the Bob Yak. Needs the wheel to be set a bit back in the dropouts to clear the mudguard but ran faultlessly.
Have e-bike with stock tires that are 52-305 / 16 x 1.95.
23 Aug 2019
Will these tires fit that wheel ? I assume that these tires will be a bit thinner but that they should likely still fit.
These will simply be 5mm narrower.

Thanks - 23/08/19
Schwalbe Marathon
05 Aug 2019
Please can you tell me if this tyres are ok to fit on my B.O.B Yak Trailer ?
Thanks
As long as the correct size, yes!

Thanks - 06/08/19