Schwalbe Marathon Plus HS440 Tyre - 16 x 1.35 Inch 35-349
Manufacturer :
SJS Cycles part number :
Manufacturer part number :
Details
Punctures are a memory. The SmartGuard layer made from a flexible, special rubber offers particular resistance to shards of glass and flints. Even a thumbtack cannot penetrate this protective layer. The SmartGuard belt does not increase rolling resistance. The Marathon Plus rolls as easily as a tyre without protection.

- Size: 16 x 1.35 Inch (35-349)
- Compound: Endurance
- Complete with Reflex
- Tread: SmartGuard
- Bar: 4.0/6.5
- Weight: 475g
- EPI: 67
Related products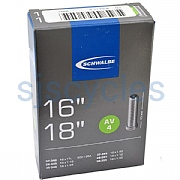 Schwalbe AV4 Schrader Tube - 400a/16"/18" Tyres - 37-340 28-349 to 37-349 & 28-355 to 35-355
£7.99 Inc VAT
Quick view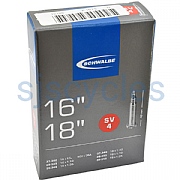 Schwalbe SV4 Presta Tube - 400a/16"/18" Tyres - 37-340 28-349 to 37-349 & 28-355 to 35-355
Now from

£4.99

Inc VAT
Typical RRP: £7.99
Quick view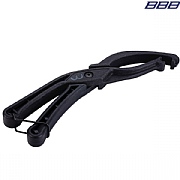 BBB Easy Tyre Fitting Tool - BTL-78
£7.95 Inc VAT
Quick view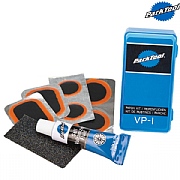 Park Tool VP-1 Vulcanising Patch Kit
£3.99 Inc VAT
Quick view
Product Reviews (6)
Overall Product Rating 4.3 / 5
Hopefully good
15 Oct 2020
I recommend this product
I have yet to fit my tyre to the bike but it certainly feels as though it will resist punctures better than my Kojaks. Price excellent.
15 May 2019
I recommend this product
Cons
in the 16 inch or 20 inch an unholy nightmare to fit..
Pros
Extremely Durable,Reliable ,The most Puncture Resistant tire available
The Most Puncture Resistant Tire Money can buy.Period.
It has a 5 mm anti puncture belt which is responsible for preventing flats.Yes, there is a slightly higher rolling resistance than a light racing tire.But its horses for courses.
If you commute to work by Bike and you Dont want flats this Is Your tire.You Can still go Fast on it.Not as Fast as a super light road tire.But with a super light road tire you Will be spending a Lot of time replacing a punctured inner tube..
The Schwalbe Marathon Plus tire is a fit and forget tire.
Generally you Wont flat once its fitted.
Extremely High durability.8000 - 9000 Miles is par for the course.A Word of Warning.In the 16 inch size they will be an Unholy nightmare to fit..so Let your friend local bike shop fit it.In the wet they are not as grippy as one would like.
So take it easy when its raining..
Overall, for Cyclists Fed up to the back teeth of punctures this tire is a Godsend.It does exactly what it says on the tin.
Fantastic tyre!
08 Oct 2017
I recommend this product
Cons
A bit harder to get onto rims than normal Brompton tyres
Pros
Tough and supremely puncture resistant
These tyres may have higher rolling resistance than some Brompton alternatives, but I'll guarantee that a flat tyre has even more! And, with these, punctures are more or less a thing of the past. If you want to go fast on your Brompton you should probably look elsewhere, but if you value reliability and long-term durability (especially on your daily commute when you don't want to be faffing about mending punctures - particularly in the hard to remove Brompton rear wheel) then I heartily recommend these. In ten years of using Marathon Plus tyres, I've had two punctures - one an enormouse thorn through the side wall (really bad luck this one) and the second a long and jagged bit of bottle glass. Apart from that, nothing in 15,000 miles of commuting!! These are my default fit to a Brompton.
So far so ...
06 Sep 2017
I recommend this product
Cons
Very slightly tighter fit.
Purchased as a replacement for Brompton's standard tyres which get a little flimsy after a while. Fairly easy to fit providing you get the bead well into the opposite well and use a little soap. Not noticed any huge difference in rolling resistance, seem to be averaging similar journey times for similar effort but steering was lighter and took a little while adjusting to. Overall, very happy, these seem much more robust.
Good Tyre
06 Jul 2017
I recommend this product
Bought as a replacement for a damaged standard marathon.
The "plus" version enjoys a higher puncture resistance but suffers higher rolling resistance as a consequence. The higher rolling resistance is only really noticable at higher speeds on good tarmac. If one's use is over imperfect surfaces and/or in a low to medium speed, urban environment, I suspect that any difference would be difficult to gauge. So best not use these tyres for racing on a perfect surface.

I once purchased a secondhand Brompton with very old, or possibly original marathon tyres. (So potentialy 14 years old!) I eventually changed them as the tread was starting to degrade.
Puncture Resistant But Not Easy Rolling
27 Jul 2014
I recommend this product
Cons
High rolling resistance
I fitted these to my folding bike before cycling Land's End to John O'Groats. No punctures, but a lot stiffer & with a higher rolling resistance compared to standard Marathons.
Consequently I refitted standard marathons to my long distance bike & moved these to my occasional commuting bike, which is never used for more than 8 mile trips & it's all stop/ start, so rolling resistance is less important & puncture resistance more significant.
Questions & Answers
If you have any questions ask here or phone 01278 441500 (+44 1278 441500).