Schwalbe Marathon Plus HS440 Rigid Tyre with Reflex - 20 x 1.35, 35-406
Manufacturer :
SJS Cycles part number :
Manufacturer part number :
Details
The flat-less tyre. Schwalbe's best selling model. The most puncture resistant pneumatic tyre there is. In addition to the superior puncture protection it features many inner values:

- Rolling Resistance: The patented, 5mm thick SmartGuard layer, when compared to all generic products, has a significant advantage in rolling resistance.
- Recycling: Also in the SmartGuard, Schwalbe use a proportion of recycled C50 rubber from old latex products.
- 'Anti-Aging' Side Wall: It now lasts much longer before developing unsightly cracks when subjected to use with too low air pressure.
- E-Bike Ready: Due to its great properties Marathon Plus is an ideal choice for E-Bikes (E-25). The main sizes are approved and tested for E-Bikes up to 50km/h.
- Flat-Less with Marathon Plus: Only Marathon Plus tires make your bicycle flat-less. The 5mm thick puncture guard protects even against thumbtacks.

NOTE: It is impossible to guarantee that a flat will never happen, but the Marathon Plus has the best defense against everyday tyre wreckers such as glass, flints or metal shards. Use a pressure gauge to adjust tyre pressures as the common 'thumb check' is insufficient due to the special construction of the Marathon Plus.

- Size: ETRTO 35-406 (20 x 1.35 Inch)
- Type: Wired
- Compound: Endurance
- Execution: SmartGuard
- Colour: Black / Reflex
- Seal: Tube
- Weight: 560g
- Pressure: 4.50 - 7.00 Bar (65 - 100psi)
- Maximum Load: 70kg
- EPI: 67
- E-Bike: E-25
- Tube: 6, 6A

Ratings:
- Rolling: 3.5 / 6
- Road Grip: 4 / 6
- Off-Road Grip: 2 / 6
- Protection: 7 / 7
- Service Life: 6 / 6

E-25 - Suitable for E-Bike: Tires with the recommendation E-25 are the perfect choice for all pedelecs with a pedal assist up to 25km/h. The most important criterion for this recommendation: safety.
Related products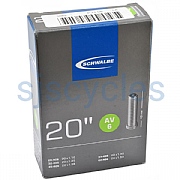 Schwalbe AV6 Schrader Tube - 20" Tyres - 28-406 to 40-406
Now from

£4.99

Inc VAT
Typical RRP: £7.99
Quick view
Schwalbe SV6 Presta Tube - 20" Tyres - 28-406 to 40-406
Now from

£4.99

Inc VAT
Typical RRP: £7.99
Quick view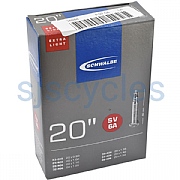 Schwalbe SV6A XLight Presta Tube - 20" Tyres - 23-406 to 40-406
Now from

£5.99

Inc VAT
Typical RRP: £9.49
Quick view
Product Reviews (3)
Overall Product Rating 4.7 / 5
19 Aug 2021
I recommend this product
Excelent tyred 10\10 easy for evertything
Well Pleased
26 Jun 2020
I recommend this product
Cons
First time, use tyre levers.
As on a previous review, hard to put on first time but gets easier. I bought 3 of these tyres for my Trike 2 x 20"and 26".
Good grip on the road, solidly built (hence, hard to get on) bought for the puncture resist factor, I Slime'd them. So only time will tell
Tough And Robust
29 May 2015
I recommend this product
Pros
Tough and puncture resistant
I have used Schwalbe Marathon tyres on a number of big wheel bikes with no complaints. The smaller the tyre the more interesting it is to put on. This is the first tyre I have ever had to resort to using tyre levers to fit, normally I can do it just with my thumbs. I am confident that the only time I will have to remove them is when they have worn out, probably in about the year 2152.
Can I use this with my Dahon Helios?
28 Dec 2020
How do I measure my tyres? Will these fit my Dahon Helios?

https://www.world-wheels.co.uk/heliosp8.htm

Hi Erik, this website does not list the specific wheel size so I cannot confrim.

Thanks, 29.12.20
Can I fit 20x1.40 tyres instead of 20x1.35?
14 May 2020
I have a Mixie bike from the U.S. and it has 20x1.35 Toyo tyres on it - I would like to put something with more grip on it such as the Little Joe tyre which are 20x1.40 - would this be an issue?
Many Thanks,
Owen
Would I be able to fit these as an alternative to the below?
02 Nov 2019
Schwalbe Pro One Tubeless Easy HS462 Folding Tyre - 20 x 1.10 Inch , 28-406
Yes, but these are a very different tyre!

Thanks - 04/11/19
Can I use with Islabike Luath 24?
03 Sep 2019
Hi, I wish to buy some tyres for my daughters Islabike Luath 24. Do you know if it's the Schwalbe Marathon Tyres and what size I would need? would it be 20x1.35? Thanks
The stock tyres are 26mm wide, our 24" 507mm tyres start from 44mm, you would need to speak to Isla Bikes.

Thanks - 06/09/19
Tires for Dahon MU SL 2010
02 May 2019
Hi, I have Dahon MU SL Steel 2010 (original tires Schwalbe 20x1.35). Will these tires match my bike and do you have any other similar to my original tires in stock? Thanks.
PROVIDED your tyres are Special Edition Schwalbe Kojack 35-406 then yes 100% fit, however our item 35890S35 (Schwalbe Kojak HS385 Tyre 35-406) or 35889S35 (Schwalbe Kojak HS385 Folding Tyre 35-406) would be a better match
i am 110kg would i be able to use 35-406 ttryers on my bike
01 Mar 2018
Hello,

You should be ok to use the tyres in question, However if your bike weighs quite a bit and if it is loaded you may be coming close to the weight limit.

Thanks.