Schwalbe Marathon Plus HS440 Tyre with Reflex - 20 x 1.75 Inch 47-406
Manufacturer :
SJS Cycles part number :
Manufacturer part number :
Details
The flat-less tyre. Schwalbe's best selling model. The most puncture resistant pneumatic tyre there is. In addition to the superior puncture protection it features many inner values:

Rolling Resistance: The patented, 5mm thick SmartGuard layer, when compared to all generic products, has a significant advantage in rolling resistance.

Recycling: Also in the SmartGuard, Schwalbe use a proportion of recycled C50 rubber from old latex products.

'Anti-Aging' Side Wall: It now lasts much longer before developing unsightly cracks when subjected to use with too low air pressure.

E-Bike Ready: Due to its great properties Marathon Plus is an ideal choice for E-Bikes (E-25). The main sizes are approved and tested for E-Bikes up to 50km/h.

Flat-Less with Marathon Plus: Only Marathon Plus tires make your bicycle flat-less. The 5mm thick puncture guard protects even against thumbtacks.

NOTE: It is impossible to guarantee that a flat will never happen, but the Marathon Plus has the best defense against everyday tyre wreckers such as glass, flints or metal shards. Use a pressure gauge to adjust tyre pressures as the common 'thumb check' is insufficient due to the special construction of the Marathon Plus.

- Size: ETRTO 47-406 (20 x 1.75 Inch)
- Type: Wired
- Compound: Endurance
- Colour: Black / Reflex
- Seal: Tube
- Weight: 725g
- Pressure: 3.50 - 5.00 Bar (50 - 70 psi)
- Maximum Load: 80kg
- EPI: 67
- E-Bike: E-50
- Tube: 7, 7AP, 7C

Ratings:
- Rolling: 3.5 / 6
- Road Grip: 4 / 6
- Off-Road Grip: 2 / 6
- Protection: 7 / 7
- Service Life: 6 / 6

E-50 - Suitable for E-Bike: For fast e-bikes up to 50 km/h (S pedelecs with approval, insurance and pedal assistance also over 25 km/h) a special tyre is necessary. We recommend E-Bike tires with ECE-R75 approval valid throughout Europe for these bikes.
Related products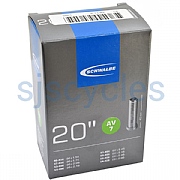 Schwalbe AV7 Schrader Tube - 20" Tyres - 40-406 to 62-406 & 54-428
Now from

£4.99

Inc VAT
Typical RRP: £7.99
Quick view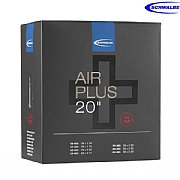 Schwalbe SV7AP Presta Air Plus Tube - 20" Tyres - 40-406 to 62-406
£9.99 Inc VAT
Quick view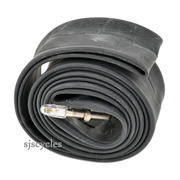 Schwalbe SV7 Presta Tube - 20" Tyres - 40-406 to 62-406 & 54-428
Now from

£4.99

Inc VAT
Typical RRP: £7.99
Quick view
Schwalbe AV7C XLight Schrader Tube - 20" Tyres - 40-406 to 60-406
Now from

£5.99

Inc VAT
Typical RRP: £9.49
Quick view
Product Reviews (2)
Overall Product Rating 5 / 5
27 Nov 2019
I recommend this product
Great stuff as usual from SJS
The ONLY choice for 20" rear wheels on ebikes
04 Nov 2017
I recommend this product
Cons
Hard to fit but worth the effort
Pros
Best value lasting performance bar none
Best value going Longest lasting most puncture proof Essential for electric bikes where high torque eats other tyres up. .
Fitting a chore See Youtube clips - especially as 20" rims have less circumference play. The trick is to force the bead of the tyre (with slightly inflated tube inside) into the valley of the rim, working around clamping it in with cable ties or tape Then ease the final bit on with levers. .
Schwalbe tubes with Woods /Dunlop valves the best to get Goop in as U DON'T want EVER to remove this tyre 'til it's finished!
Can I use it instead in 1.50?
30 Aug 2019
Hi,

My current tyre on the e- bike is 20 x 1.50
Will this one fit ok? Would it affect how rebuts the tyre is?

Many thanks
Yes, just check you have clearance in the frame/fork/mudguard!

Thanks - 30/08/19
Is This The Right Width For Moulton Tsr9? Which Inner Tube Is Best?
28 Jan 2016
Hi,

Unfortunately as we don't stock Moulton bicycles we would have no way of knowing what width tyres are suitable for your bike. From a quick internet search I can see it comes as standard with 37mm wide tyres, these Marathon Plus tyres are 47mm, so if your frame and forks have at least 5mm either side of extra clearance then these tyres should fit fine. The best tube to go with these tyres is the Schwalbe SV7 which is SJSC part number 13004.

Thanks.
Can I Run A 40 On A 47 Rim, To Give A Slightly Faster Tyre
24 Aug 2015
Hi,

You rims won't actually be 47, that would be the width of the tyre that is currently fitted in millimetres (47mm). Most rims can take a wide range of sizes and if you currently have 47mm tyres fitted your rims should easily be able to take 40mm tyres.

Thanks.