Schwalbe Marathon Winter HS396 Tyre c/w Spikes - 700 x 35 35-622
Manufacturer :
SJS Cycles part number :
Manufacturer part number :
Details
For a safer journey. You have full control on icy roads with this tyre. Even in tight bends & under violent braking everything remains under control. The 240 spikes work best on ice when running at minimum pressure, whilst at maximum pressure the tyres can be ridden on ice-free roads with minimal road noise.

Tech Specs:
- Type: Wired
- Version: Performance Line
- Compound: Winter Compound
- Puncture Protection: Kevlar®Guard
- Protection Level: 4
- EPI: 67
- Pressure (PSI): 35-85psi
- Max Load: 100kg
- Weight: 910g
Related products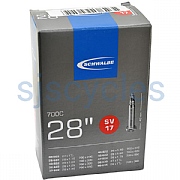 Schwalbe SV17 Presta Tube - 700c/27"/28" Tyres - 40-609 28-622 to 47-622 32-630 & 40-635
Now from

£4.99

Inc VAT
Typical RRP: £7.99
Quick view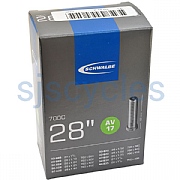 Schwalbe AV17 Schrader Tube - 700c/27"/28" Tyres - 40-609 28-622 to 47-622 32-630 & 40-635
Now from

£4.99

Inc VAT
Typical RRP: £7.99
Quick view
Product Reviews (6)
Overall Product Rating 5 / 5
Assured safety
29 Jan 2020
I recommend this product
Cons
Price compared with a car tyre
Having sustained a puncture on my existing ice spike after 4 winters of riding and no punctures, I found that the spikes had worn through the tyre. After 4000km the tread was still in excellent condition so I was forced to bin the tyre. Having the experience it was a no brainer to order up the exact same tyre spec. The new tyre arrived very quickly. It has now been bedded in and has performed very well on recent black ice.
love these
20 Jan 2020
I recommend this product
Cons
slow but thats to be expected
Pros
grip and puncture resistance
I purchased these over a year ago from SJS to put on a spare bike. I have a main road bike for commuting and weekend riding that has 25/23mm regular tyres on. When the weather turns icy I pull out my CX bike which has these tyres on just between October and Feb, and the rest of the year has regular CX tyres on for on/off road mix rides. I have only needed to ride on these tyres on about 5 days commutes and 3 regular rides. They really can go over all the ice you throw at them. Some big shiny glassy frozen flood water on the road made me hold my breath but I felt not the slightest slide. I understand the tyres have great puncture protection in them, but I also have slime inner tubes in them anyway. Without a doubt these keep you riding through winter.
Fantastic
30 Nov 2019
I recommend this product
Come up about the quoted size, 34mm on 17mm rims. The grip is incredible on sheets of black ice and frozen puddles, even at full pressure 85psi. The extra drag (and noise) adds a consistent 3-4 minutes onto my 60-minute journey, compared with 25mm Gatorskins at 100psi. I'm happy with that. They were surprisingly easy to fit too.
Fantastic Tyres!
13 Feb 2017
I recommend this product
Cons
Spikes are vicious on flooring and large uncooperative dogs in the hallway.
Pros
A top quality winter tyre which will go where you literally would fear to tread.
I changed from my standard marathon tyres to the winter version and to be honest the extra rolling resistance is negligible - the standard marathons being like riding through glue compared with my summer tyres anyway.
I like the pittering noise they make on tarmac, it sounds reassuring.
Only had a chance to ride on a bit of frost and one short ride home from work on 1cm of soft fresh snow. As expected the grip was there, it was just as if I was riding on wet tarmac.
Looking at the tiny sipes cut into each tread block it looks like these would be classed as snow tires even without the steel spikes so they should be good in soft snow where the spikes would not get much purchase.
Watch out for your polished wood flooring and definitely don't wheel the bike over the dog in the hallway.

Unbelievably Grippy Tyres!
21 Jan 2013
I recommend this product
Cons
Slow and noisy in normal conditions
I held off reviewing these tyres until a proper burst of wintry weather. I was beginning to wonder if they were worth it because in normal conditions they do slow you down and are quite noisy even when inflated to maximum pressure. But come the snow and ice, conditions which have left even 4x4s floundering have been no problem whatsoever for these tyres.
Schwalbe Marathon Winter Hs396 Rigid Tyre
20 Dec 2011
Cons
may,lose,the,odd,stud,in,use
Pros
Unbelievable,grip,on,ice
My second winter on these tyres. Allow you to ride on sheet / black ice, compressed snow with total confidence even on steep climbs/descents. I ride conditions I wouldn't even attempt on foot ! Perfo
Are there any 650b gravel bike spiked tyres available?
23 Dec 2018
We are not aware of any!

Thanks - 24/12/18
Can You Supply Schwalbe Marathon Winter 700X40C Tyres?
23 Nov 2016
Hi,
We don't currently have the 700x40C size option in stock but we can special order them in for you. For more information on availability, lead time and cost please email
[email protected]
Thanks.