Schwalbe Winter HS396 Tyre - 16 x 1.20 Inch 30-349
Manufacturer :
SJS Cycles part number :
Manufacturer part number :
Details
NOTE: When fitted to a Brompton, rear tyre will scratch underside of the main frame when fully folded. Some form of frame protection tape will be necessary to prevent paint damage.

Reduced to its essentials. With half the amount of spikes, the Winter provides excellent control on glassy ice. Only in extreme cornering is its big brother Marathon Winter superior. With 50 EPI carcass, reflective lines and K-Guard it offers great benefits at an entry-level price.

- Size: ETRTO 30-349 (16 x 1.20 Inch)
- Type: Wired
- Compound: Winter
- Execution: K-Guard
- Spikes: 72
- Colour: Black / Reflex
- Seal: Tube
- Weight: 465g
- Pressure: 4.50 - 8.00 Bar (65 - 115psi)
- Maximum Load: 65kg
- EPI: 50
- Tube: 4

Ratings:
- Rolling: 2.5 / 6
- Road Grip: 4 / 6
- Off-Road Grip: 3 / 6
- Ice Grip: 4 / 6
- Protection: 3 / 7
- Service Life: 3 / 6
Related products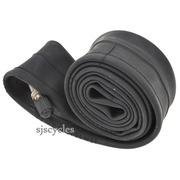 Continental Compact 16 34mm Schrader Tube - 16" Tyres - 32-305 to 47-349
£4.99 Inc VAT
Quick view
Tubolito Tubo-Folding Schrader Tube - 16" Tyres - 1 1/8" to 1 3/8" - 28-349 to 37-349
£27.99 Inc VAT
Quick view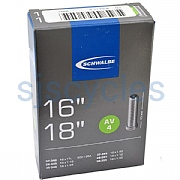 Schwalbe AV4 Schrader Tube - 400a/16"/18" Tyres - 37-340 28-349 to 37-349 & 28-355 to 35-355
£7.99 Inc VAT
Quick view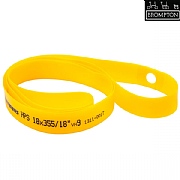 Brompton Rim Tape 18mm - Yellow
£2.50 Inc VAT
Quick view
Product Reviews (5)
Overall Product Rating 2.4 / 5
Design is not working for the small 16' 349 Brompton tyres
09 Jul 2021
Cons
Constant punctures, high rolling resistance, loud
Pros
Better grip on icy ground, if any
Repeatedly had punctures by the spikes pressing/rubbing the tyre onto the tube (with/without puncture protection inserts, low/max high pressure, silicone lube) it wasn't working at all, threw them away after all those tries. Quite loud and high rolling resistance, compared to 26' working really well and comfortable.
Total disaster
16 Feb 2020
I bought them in the end of the fall and was pretty confident that respectful brand will meet my expectations. But unfortunately I had three punctures within first 200km and those were caused by spikes of the tire itself, tried different pressure but no luck. Few spikes are lost somewhere on roads of Helsinki. Will just throw them away.

PS: Pretty hard to install them on a brompton rim.
Winter Tyres
14 Jan 2019
I recommend this product
Cons
Narrow Width [For to cut through snow]
My Land Rover magazine keeps recommending the vehicle version the General Grabber Snow Grabber. Are fed up with the frights on icy roads on normal tyres so when seen these in a sale it's a no brainer. Road Pattern - Tick! Lightly Studded - Tick! Puncture Proof - Tick! Vehicle Pattern - Tick! My last Schwalbe Snow Stud lasted over ten years on two bikes, half worn and only just perishing so thought I'll try these. Are fed up with the ridiculous online prices so was well pleased to find these at a ridiculous cheap price. Felt too was an ideal choice for climate change as the Michelin Climate Cross vehicle tyre got me thinking...
Grippy But Hard Work.
26 Jan 2016
I recommend this product
Cons
Noise, rolling resistance
Excellent grip, big improvement on ice and mud. No problems with punctures after around 100km. Fit a Brompton ok.
Need 40km on tarmac to wear in.

Downside: very noisy on tarmac, they crackle. Can be left on all the time but with lots of rolling resistance you wont want to ride them unless conditions demand it.
Bad Tyres
29 Jan 2015
Cons
poor quality, short life
Version 16x1,2 very poor quality. After 300 km of usage spikes broke through the tire and punctured the inner tube. Additional puncture protection liners does not help. You could see the pictures on Russian brompton club.
http://forum.bromptonclub.ru/viewtopic.php?f=20&t=2051#p9010
http://forum.bromptonclub.ru/viewtopic.php?f=20&t=2051&start=10#p9374
Brompton winter tyres
03 Apr 2019
Schwalbe Winter HS396 Tyre - 16 x 1.20 Inch , 30-349
Hi
I'm a cycle journalist and also publisher of the book Brompton Bicycle which I believe you have stocked in the past.
Editor of A to B magazine David Henshaw would like to run a review of these studded tyres that fit Bromptons. Would you be able to send a pair for review?

Hi there,

You would need to buy them as usual I'm afraid.

Thanks.