Wheel Build Rear 14/15g DT Competition - Left 14g DT Champion - Right SILVER Spokes - per wheel.
Spokes
Manufacturer :
SJS Cycles part number :
Manufacturer part number :
Details
Please note wheel builds are NOT available on an EXPRESS service but will be despatched within 18-21 working days, normally sooner.
Add this to your basket & the rims & hubs on your order will be combined to form a very high quality wheel built to our master wheel builders exacting standards. Select this product, then go to the relevant rim & hub sections & choose the relevant items. Be sure to pick hubs & rims with correct hole drillings! Normally only Sapim or DT spokes will be used but occasionally with some odd lengths we may substitute another brand. ALL our wheels are built with SILVER nipples, made from brass, finished with a nickel plate. Alternative nipples can be purchased through our online store. If you have purchased alternative nipples, we will assume you want these used to build your wheels. If you don't please let us know
[email protected]
Additional spokes can be purchased through our online store, please order at time of build.
NOTE: Rim tape not included needs to be purchased separately
** Please note wheel builds are NOT available on an EXPRESS service**
Related products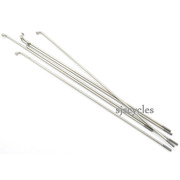 Custom Wheel Build 6 Spare Spoke Pack - 14/15g DT Competition Silver
£5.49 Inc VAT
Quick view
Product Reviews (10)
Overall Product Rating 4.7 / 5
excellent workmanship
23 Mar 2019
I recommend this product
Pros
excellent price point for a custom wheel build.
wheels are true, with precise spoke tensions. Rode it for 500km and everything looks fine to me.
Excellent
30 Aug 2018
I recommend this product
My first wheel build from SJS: LX hubs with DT champion spokes and 36h unbranded SJS single wall 700c rims, and they are really nice. The tension is very even and the wheels are really true. This is no mean feat considering they are single wall un-eyeletted rims. I can build fairly decent wheels myself, and have bought wheels from respected UK wheel builders, but have to say these are as good as any. I'm impressed!
Efficient service
10 Aug 2018
I recommend this product
Pros
Fast dispatch / delivery, Well packaged
Very pleased with my new wheel. Very rapid turnaround time with wheel dispatched next day.

Wheel is well built running true as you would expect.
Excellent Service/Wheelbuilding
31 May 2017
I recommend this product
Pros
Fast turnaround delivered before time stated on web site!
Wheel built for atb use.
Used on some hard trails already on an E Bike.
No problems still running true.
Very pleased would use again.
Amazing Service
25 May 2017
I recommend this product
Pros
Super fast, great value, perfect build, great selection
Wheel was built, dispatched and delivered less than 36 hours from order. The build itself is of very high quality and the careful packaging made sure it arrived in perfect condition.

Really happy and won't hesitate to use again.
Fast And Seems To Be Great Quality
30 Mar 2013
I recommend this product
I don't know a huge amount about wheel building, but from what I know the wheel I had built was done right, all ready to go in very good time: less than 7 days total to order, build and turn up at my door!
Excellent
11 Oct 2011
I recommend this product
27" wheel for 1980 mercian built quickly and impressively well (vast improvement on some 700c wheels on another bike, from a large company, that I could have built better mysef).
Fast, Professional Service And Quality Workmanship
29 Sep 2011
I recommend this product
Received the wheel 3 days after a slight hiccup with the initial order was sorted out – great service from the admin staff. Really pleased with the wheel. Build quality seems to be very good and it's a joy to use this hand build wheel on my daily commute. It's the first time that I haven't got a machine build wheel and the difference is noticeable. All my future wheels will be hand build and I can't see any reason not to use SJS in future. I'm well happy, thanks!
Superb - Highly Recommended
20 Jun 2011
I recommend this product
Pros
Simply perfect handbuilt wheels
I've used SJS wheelbuilding twice now. Both wheels are absolutely perfect. I've had one (700c, rear) on my allpurpose commuting / trekking / touring bike for around 3000 miles so far (always carrying heavy rear panniers) and it's as true as the day it arrived, and a few hundred of those miles have been on forest tracks, sheep tracks and other unsurfaced trails. The second wheel (also 700c, rear) was an urgent order for my wife's bike and SJS were superb in getting the wheel built and delivered in just a few days. As noted by others, packaging is excellent. I wouldn't buy wheels anywhere else now.
Fast and excellent quality
12 Jun 2010
Just had a replacement 27 in wheel built for my 1982 Condor on a Suntour Supreme frewheel hub. Fast service 3 days - whell is perfectally true and dished and the packaging was perfect - especially liked the tape tubes to protect the hub

Would highly recommend this compared to some of the amateurish attempts at whellbuilding Ive seen from some LBS - well worth the money
Can you build a wheel with my own wheel hub?
18 Mar 2019
Will you be able to build a rear wheel if I send you my own Phil Wood hub from USA? Other components required to complete the build like wheel and spokes I would like to buy from your store. Please advise.
You simply need to ship us your hub, with a covering letter including ALL of your details and what you wish for us to do. On receipt, we will make contact, confirming everything and to take a payment.

Thanks - 18/03/09
Will you build with my materials
15 Mar 2019
Hello,

I wanted to inquire if you would build a wheel for me with my own materials. I have Mavic Ksyrium SLS rear wheel with damaged rim, that needs to be changed. It would obviously involve building it anew. How much would it cost?

Thanks,
Justin
Yes we can build using items supplied by yourself, simply pop them in the post with a covering letter than explains what you would like us to do and all of your details, billing/shipping address(es), contact number and email.

thanks - 19/03/19
Must I order spokes
12 Feb 2018
Hi,
Sorry but I'm not sure I understand
To order a Wheel build, I must order:
1 - the service Wheel build
2 - the rim
3 - the hub

So my question is:
Must I order spokes too
Thanks
Hi there,

The wheel build service includes spokes.

Thanks
length spokes
12 Feb 2018
Hi,

Must I calculate the length spokes by myself

Thanks

Franck
Hi there,

We will work out all of the spoke calculations during the wheel build, you just need to select what you would like and we will build it!

Thanks
are spokes inculded in the service
12 Feb 2018
Hi,

Must I order the spokes or are they included in the build service
Thanks

Hi there,

The easiest way to look at our wheel build packages is that you are buying spokes, with wheel build labour built into that price.

Thanks.
What Spare Spoke Package Would Go With This?
27 Jan 2015
Hi,

For this wheel build we'd recommend selecting the DT competition spare spoke pack and our wheel builder will still do a mix of spare spokes from both types used on the wheel build. I would just like to point out though, based on your previous questions asking about a Rohloff wheel build and a 16" wheel build that this wheel build option would not be suitable for either, Rohloff wheels are always built using the Sapim spokes (their shape fits the Rohloff flange better) and we only have standard straight gauge spokes in small enough sizes for use with 16" wheels.

Thanks.