16 349 Brompton Standard Front Wheel
Manufacturer :
SJS Cycles part number :
Manufacturer part number :
Details
Front wheel with standard hub.
74mm OLN.

Please note Brompton have selling restrictions to some countries who have their own dealers. If you are unsure please contact our sales team.
Related products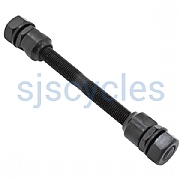 Jtek Replacement Front Wheel Axle for Brompton
£4.99 Inc VAT
Quick view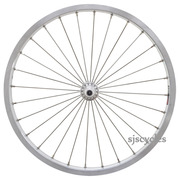 16 349 SJSC for Brompton Superlight Front Wheel – Jtek / CR18 - Silver
£74.99 Inc VAT
Quick view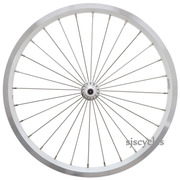 16 349 SJSC for Brompton Front Wheel - Jtek – Silver
£77.99 Inc VAT
Quick view
16 349 SJSC for Brompton Superlight Front Wheel - Jtek / CR18 – Black
£59.99 Inc VAT
Quick view
Product Reviews (4)
Overall Product Rating 4.5 / 5
Tight
13 Aug 2020
I recommend this product
Cons
Had to adjust the bearings before first use
Pros
looks like a good wheel for the price
Wheel seems well made and has done a couple of hundred miles already. The only problem as others have said is that the bearings on delivery where very tight and binding. It's only a 2 minute job if you have the tools and know what you are doing (that's why only 4 stars)
Another reliable wheel
10 Apr 2018
I recommend this product
Like for like replacement. Got 15,000 miles out of the last one. Don't over inflate tyres as this takes too much tension out of the spokes. 80 psi is plenty. Comes with nuts and washers which is nice.
After 11 Years It Seemed A Good Idea To Get A New Front Wheel!
08 Apr 2013
I recommend this product
As always great service from SJS!
Although I had never suffered any problems I had read of a number of riders suffering spilt rims after far less miles than my 2002 model Brompton had done. It seemed a good idea to lash out on a front wheel replacement. Any easy job,and as with most Brompton parts it came complete with all necessary extras such as rim tape and new axle nuts and washers. I also replaced the brake pads (separate review).
Mrs
06 Aug 2012
I recommend this product
Ease of ordering and speed of delivery was exceptional. Thank you
Wheel placement Moulton Speed 1965
07 Dec 2020
Hi, I need a front wheel replacement for my Moulton Speed. Tyre measures as follows:
37-349 (16 X 13/8) HS 308

Hope this helps. Thanks Sam
This is the same size rim, providing the fork OLN is 74mm, this should work for you.

Thanks
Do you have a wheel that can fit a Moulton speed. size
04 Dec 2020
Size is 16" X 13/8. The original was from Dunlop. Ideally will like a replacement.
Hi, we can only confirm correct tyre fitting using the ETRTO code located on your tyre sidewall- please locate this and we can assist in finding compatible tyres.

JK 07.12.20
What type of spokes do I need for a standard 2017 brompton front wheel ?Thanks Tony
15 Aug 2020
Current 2019 front wheel
01 Jan 2019
Is this the current 2019 front wheel for the single speed Brompton? Does it come with the wheel nuts and tab location washers?
Hi

Yes, this is the current wheel & is supplied with the wheel nuts, tab washers & rim tape.

Regards 02/01/19
Is there selling restriction to Belgium for this item
12 Nov 2018
Hi,

We are fine to send Brompton parts to other countries within Europe.

Thanks. 12/11/18
Hi, Will This Front (And Rear 3 Speed) Wheel Fit My 1993 Bromy
16 Feb 2017
Hi,

This wheel will indeed fit your older Brompton, the dimensions have not been changed in that time so these newer wheel can still be fitted to older bikes.

Thanks.
Rim Details
25 Feb 2015
1) Does this wheel use the Brompton Alesea rim?
2) Are the rims hooked to take HP tyres
Hi

This is the new Brompton rim which has a slightly different profile & is double walled as opposed to the single walled Alesa. The rim is hooked so will take high pressure tyres.

Regards, Jamie