16 349 SJSC for Brompton Superlight Front Wheel – Jtek / CR18 - Silver
Manufacturer :
SJS Cycles part number :
Manufacturer part number :
Details
High quality Handbuilt Brompton fitting front wheel which is lighter, stronger and faster than the original, a fantastic upgrade for your Brompton.

The spec:
Jtek 8mm axle, sealed bearing silver alloy hub with allen key skewer built on to a silver Sun CR18 ABT 349 rim with 14G stainless steel spokes.
Our superlight front hub will fit Brompton front forks, it's 75grams lighter than the standard Brompton hub and has much lower rolling resistance.
The Sun CR18 rim has wear indicators & a Schrader drilled valve hole. This is a very high quality rim, with ABT (advance brake track) machined sidewall, with single eyelets. Overall width 22.4mm, inner well width 17mm. ERD - 340mm

Note: This wheel is not supplied with rim tape.
Related products
16 349 SJSC for Brompton Superlight Front Wheel - Jtek / CR18 – Black
£59.99 Inc VAT
Quick view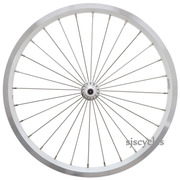 16 349 SJSC for Brompton Front Wheel - Jtek – Silver
£89.99 Inc VAT
Quick view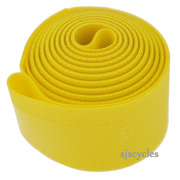 Jtek Rim Tape 349 x 18 mm
£1.50 Inc VAT
Quick view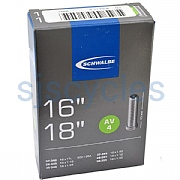 Schwalbe AV4 Schrader Tube - 400a/16"/18" Tyres - 37-340 28-349 to 37-349 & 28-355 to 35-355
£7.99 Inc VAT
Quick view
Product Reviews (2)
Overall Product Rating 5 / 5
Superb alternative
07 Mar 2018
I recommend this product
Superbly made wheel, only slightly heavier than the Brompton extra light (the weight of four pound coins) performs at least as well as the Brompton wheels.
07 Oct 2016
I recommend this product
Lightweight and Smooth ride. Best Product for Brompton.
Do you sell scewers fot the super light brompton front wheels
09 Aug 2019
16 349 SJSC for Brompton Super Light Front Wheel – Silver
Product Code: 38189


Hi,

unfortunately, we do not sell these skewers.
What are the torgue settings for the allen keyskewer
08 Aug 2019
Hi, there are no specified torque values for the skewer. It should be done up tight with a standard length allen key (not extended) in the same way you might tighten a nutted axle. Thanks 09/08/19
Anyone tried these tubeless with Kojaks?
22 May 2019
Just wondering about a few gram saving (although perhaps not with sealant), for a couple less punctures and have heard of people doing this with Brommies in the past.
Hi there,

We have never done this here and as far as we are aware no one has ever tried this im afraid.

Thanks.
What'S The Mass (Weight) Of This Wheel Without Rim Tape And With Skewer?
25 Jun 2017
Hello,

The weight of this wheel with the skewer is 531g.

Thanks.
Hi, Is This A "Quick Release" Front Wheel (Via An Allen Key)?
20 Apr 2016
Hi,

This wheel does indeed use a supplied allen key skewer.

Thanks.
Jtek Superlight Front Wheel
26 Nov 2015
Good morning,
just wanted to double check before placing the order, that this wheel/hub will match the space between my front fork dropouts which measure 710/712mm (space when the wheel is fitted and tightened) ?
In addition, when fitting the hub allen bolts, I presume we need to keep the washers in between the allen bolt and the dropout?
The washers I am referring to can be seen in this photo:
http://www.sjscycles.co.uk/bromptonaxlefasteningsforfronthubstandardprod9952/
Many thanks
Nicolas

Hi, the wheel has exactly the same spacing as the Brompton version & yes you will need to keep the washers in between the allen bolt & drop out. Regards
Jtek Brompton Super Light 16" Front Wheel Rim Tape?
29 Jun 2015
Hi SLS,
What type/size rim tape do you recommend for the Jtek Brompton Super Light 16" front wheel?
Thanks and regards,
Tony
You can use either of the Brompton rim tapes (our part numbers 31192 or 31247). The 18mm is easier to keep straight, the 12mm is easier for tyre changes. Thanks Adrian