27 x 1 1/4 Inch Rear Wheel with Nutted Solid Axle / Polished Alloy Rim - 36 Hole
Manufacturer :
SJS Cycles part number :
Manufacturer part number :
Details
Driveside threaded for 6/7 speed freewheels.
130mm OLN
9.5mm (3/8") axle-

Note: This wheel is not supplied with rim tape.
Related products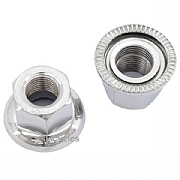 3/8 Inch Track Nuts - 9.5 3/8 x 26tpi
£2.99 Inc VAT
Quick view
Product Reviews (5)
Overall Product Rating 4.6 / 5
Good budget wheels
23 Apr 2023
I recommend this product
Perfect replacement for my Falcon Super Tourer. Take 5mm from spacers on BOTH sides and fits 120 mm drop outs no problems.
Time will tell on longevity.

14 Mar 2021
I recommend this product
Pros
Sensibly priced option for old road bikes
Note the wheel will fit a bike with 120mm rear fork spacing and a 5-speed Sunrace freewheel. But you need to undo the nuts and remove the 5cm spacer on the opposite side. Just replaced my totally worn out rear wheel on a near 40-year old Falcon Black Diamond to give it a new lease of life.
Perfect wheel
05 Sep 2017
I recommend this product
Nice part , fits and run perfect.
Great Wheel For Older Bike
19 Apr 2017
I recommend this product
Polished alloy rim and hub (unbranded) fitted with sealed bearing races (not cup and cone). Looks well made and runs smoothly. Stainless spokes and drilled for presta valve. Braking surfaces not machined but look true and the joint aligned ok.
Good News
24 Sep 2016
I recommend this product
A fine, stainless steel wheel for use on
Do you sell a version of this wheel in 700c size?
14 Oct 2023
I'm looking for a 700c wheel to go in a vintage frame with 120mm fork spacing. Do you sell a 700c version of this wheel (or could I order via the wheel building service)?
Sadly we do not have a 700c version of this wheel. SK 16/10/23
What is the outside width of these rims please?
03 Aug 2021
Thank you for your enquiry, it is 24mm external and 18mm internal

WD 04/08/21
Will the Sunrace Nickel 7 Speed Cassette (12-28) work with this?
18 Apr 2021
If not, can you recommend a similar 7 speed cassette that will?
Thank you for your enquiry, this is for freewheels only and not cassettes

WD 19/04/21
Do you have cone dustcaps that are suitable for this wheel?
07 May 2020
I bought one of these wheels from SJS a few years ago. I ahva emanaged to mangle one of the cone dust caps while servicing the vearing - do you have a compatible replacement?
Hi, sorry we don't have spare dust caps for these hubs. Thanks
Will it take an 8 Speed freewheel
07 Nov 2019
I know it says 6/7 but will an 8 speed Sunrace freewheel fit? (you've said in another answer that any standard screw on freewheel can be used). Thanks.
There looks to be plenty of axle (to add a spacer if you need to) but if you add a spacer you'll need to reduce the space on the other side otherwise the hub won't still be 130 OLD PLUS you'll need the wheel re-dished. R
Does this have a hooked or straight rim?
25 May 2019
These rims are hooked.

Thanks - 29/05/19
Is this wheel compatible with a single speed freewheel?
06 Nov 2018
Hi

Yes, you will be able to fit a single speed freewheel to this wheel. I hope this helps.

Regards 07/11/18
What is the diameter of the axle?
11 Sep 2018
Hi, it is 9.5mm (3/8"). Thanks
Looking for front and rear wheels and tyres. Changing from 27/1 1/4
03 May 2018
Frame size 22 1/4" / 56.5cm. Front frame axle spacing 100mm.
Rear frame axle spacing 120mm. Brake brackets should adjust to fit 700c. wheel. Possibly fit rear wheel with a modified axle? Looking to fit tyre width of 28 or larger.
Thanks.

Hi there,

We simply would not be able to advise without seeing the bike / test fitting a 700c wheel.

We would suggest visiting your local bike shop.

Thanks
Can I use this with Continental SuperSport 27" X 1 1/8 tyres?
25 Nov 2017
https://www.sjscycles.co.uk/tyres/27-x-1-14-inch-32630-continental-supersport-plus-tyre-27-inch-630/

Could you suggest also a gear cassette to mount on? I need to replace the entire back wheel on an Orbita road bike of the 80s
Hi,

The 27 X 1 1/4 option of the SuperSport tyre will fit this wheel however be sure to check a 28mm wide tyre will fit in the frame.

In regard to the Cassette, we need to know the specification you are looking for - how many gears, idea ratio etc.

Thanks.
Are These Wheels Compatible With A Presta Valve On The Inner Tubes?
03 Mar 2017
Hi,

These wheels are drilled for Schrader valves so to use them with Presta valves you'll need an adaptor, we stock these and are SJSC part number 16975.

Thanks.
I Bought This Wheel And Need To Buy A 6 Speed Freewheel Cassette For It
31 Aug 2016
...it's a 14-24 freewheel i need - will this one fit onto this wheel?
Hi,

That Sunrace 6spd freewheel would be absolutely fine for use with this 27" wheel.

Thanks.
Does This Wheel Have Double Wall Rim?
11 Jun 2016
Thanks
Hi,

This wheel comes with only a single wall rim.

Thanks.
Whats The Old For The Hub
22 Mar 2015
Looking for a 27 inch wheel, that will take a 5 speed freewheel and fit an old road bike with 120mm drop out spacing.
Hi,

The hub in this wheel has an 130mm OLN spacing I'm afraid.

Thanks.
Does This Wheel Have Stainless Spokes?
14 Jan 2015
Hi,

Yes this wheel has been built using stainless steel spokes.

Thanks.
Will This Fit A 5 Speed Sunrace Freewheel
06 Dec 2013
Hi,

Yes you can use this with any standard screw on freewheel.