Shimano Deore XT CS-M760 Sprocket Wheel - 11T Built in Spacer - Y1ZA11001
Manufacturer :
SJS Cycles part number :
Manufacturer part number :
Details
Shimano Deore XT CS-M760 9 speed cassette Sprocket. For use with their 11-32T cassettes.

The following are an "A" match which indicates that the parts are the same in materials, appearance, finish & size etc.

- Shimano Deore XT CS-M770

The following are a "B" match which indicates that the parts are usable, but differ in materials, appearance, finish & size etc.

- Shimano XTR CS-M970

These cassettes require the Shimano TL-LR15 Lock Ring Removal Tool.

Genuine Shimano replacement part.
Associated Components
Part Number
Description
Availability
Y1ZA98010
Lock Ring & Spacer
Discontinued
Y10K02000
Lock Ring Spacer
Discontinued
Y1ZA12441
Sprocket Wheel 12T (Built in spacer type)
Discontinued
Related products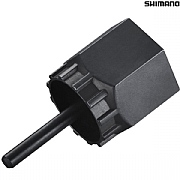 Shimano TL-LR15 Hyperglide Cassette Lock Ring Remover
£20.99 Inc VAT
Quick view
Product Reviews (2)
Overall Product Rating 5 / 5
Huge Saving
30 Sep 2012
I recommend this product
Its surprising how quick the small cog wears down when the chain stretches, and this isn't the first time it's happened. Previously had to replace the whole cassette for just one worn cog as strangely could only find suppliers who would replace the whole cassette, refreshing to find someone that will sell the single cog. Fast effienct service, thought your postage was a bit steep as it weighs next to nothing, and the package is understandably small.
Works A Treat
30 May 2012
I recommend this product
Got a shimano XT cassette ?
Slipping a lot in 9th ?
Get this part
10 mins work with chainwhip and cassette removal socket and you will save yourself having to buy a new cassette !
I bought 2 (one to put on and one for spares box)
Will this fit a Shimano HG201-9 cassette?
29 Sep 2018
Can I replace my worn 11T cog with this on an HG201-9 (11-36) cassette?
Thanks
This may physically fit, but its not a direct replacement so the shifting may be slower.

Thanks
Can I use this on HG50 9 speed cassette?
26 Jul 2018
Have managed to break one of the teeth on the 11t sprocket, will this work as a replacement. A 7 speed fits but the shifting doesn't work very well?
This is not suitable for the HG50, the 11t sprockets are not brought into the Uk for that cassette.

Thanks
Can I Use It With Hg50 Cassette?
15 Jun 2015
I have a CS_HG50 13_34T 7s, I would like to replace the 13T cog. Greetings!
Hi,

I would not recommend running this sprocket with your cassette, as this sprocket is designed for use with 9spd cassettes it will be a different size than is suitable for use with your 7spd cassette. I would recommend sticking to a 7spd specific one and sticking to the original 13T size otherwise you may disrupt the shifting.

Thanks.